Tourism Information
The Canadian Museum of History is a must-see attraction in Canada's National Capital Region, located less than five minutes from downtown Ottawa and Parliament Hill.
The Outaouais and Ottawa region is a destination where culture and nature blend wonderfully. You can discover the country's history with its national museums, while admiring nature first-hand through parks and cycling trails. This region offers many activities, attractions and festivals for everyone.
Planning a trip to the region? Check out the amazing offers from Expérience Outaouais.
During your visit to the Museum, you can also enjoy experiences from our tourism partners on our grounds or nearby.
Rabaska Canada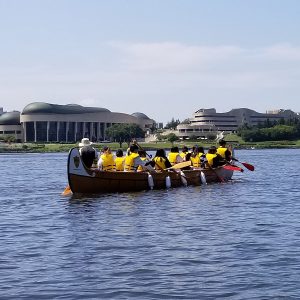 Climb aboard a traditional Montréal canoe for a 60-minute trip along the Ottawa River. Accompanied by a guide in period costume, passengers will retrace the route taken by French-Canadian voyageurs in the late 1700s — a route already familiar to local Indigenous peoples.
Interzip Rogers
Fly 120 feet in the air over the Ottawa River!
Interzip Rogers is the world's first interprovincial zipline. Fly over the Ottawa River from Ottawa to Gatineau.
Culture Trail in Downtown Gatineau
The Culture Trail is an urban pathway that connects outdoor artworks, points of interest, and exhibition and entertainment spaces. Discover the public art trail in the heart of downtown Gatineau, starting from the Canadian Museum of History!
City Tours and Transportation
Lady Dive Tours
The Outaouais and Ottawa region offers a range of activities, such as city tours and "Hop On – Hop Off" double decker bus tours. Lady Dive Tours offers guided tours of the National Capital Region with stops at major attractions, such as the Museum of History. Various packages are available, including Museum admission.
Aqua-Taxi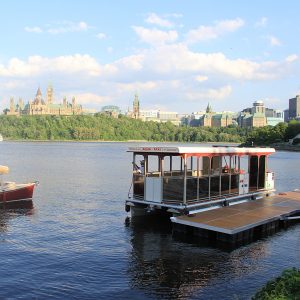 Aqua-Taxi is an eco-friendly mode of transportation that offers a summer shuttle service between the Canadian Museum of History, the Ottawa dock (located below Parliament Hill), Richmond Landing (providing access to the Canadian War Museum), Rockliffe Boathouse and the Rest'O'Bord Le Pirate restaurant (on Jacques-Cartier Street). Aqua-Taxi has universal accessibility and space for bicycles and strollers.
Festivals On Site
The Museum of History is proud to host and partner with large public events and local festivals.
Les grands feux du Casino Lac-Leamy
Come and admire the sky over the Ottawa River as it lights up with pyrotechnic displays. Back in August 2021.
Riverside Festival
Riverside is Gatineau's very first festival devoted exclusively to electronic music. Each year, the event welcomes world-renowned artists and DJs to a high-octane showcase! Back in September 2021.
More Tourism Information
See also:
Admission Fees (Taxes not included)
Adult
Senior
Student
Youth
(8-12)
Child
(2-7)
Family (6 pers. –
Max 2 adults)
Members
(More info)
Museum
$20
$18
$15
$13
$5
$50
Free

Buy Tickets

Special Events
Temporarily Unavailable

Buy Tickets

Guided Tour
Temporarily Unavailable