Overview
For groups of 15 or more, let our experienced reservations staff suggest an itinerary to suit your interests. Please register in advance.
For information regarding guided or unguided group visits, and for group rates and reservations (including CINÉ+ reservations) contact us.
Museum and Canoe Experience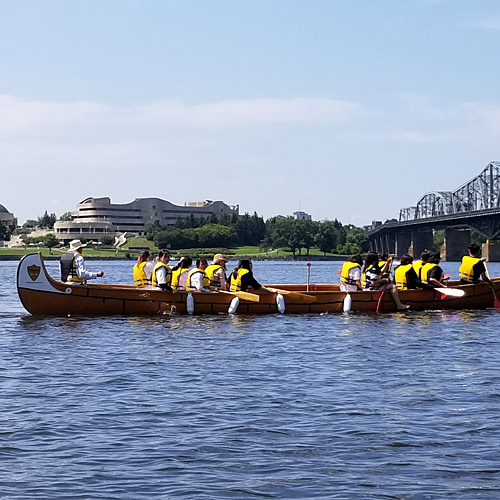 The Canadian Odyssey
Discover 15,000 of years of stories and explore Canada's history through the diverse experiences and perspectives of the real people who lived it at the Canadian Museum of History. Then, trace the voyageurs of the late 1700s aboard a traditional Montréal canoe and explore the Ottawa River and its rich historical surroundings.
Details:
Guided tour of 60 minutes of the Canadian Museum of History, including the Canadian History Hall.
Expedition of 90 minutes aboard a Montréal canoe on the Ottawa River, with a costumed interpreter, relating the life of the 18th-century explorers.
Reservations are required. Please contact us for more information and to book.
Educators
School programs are available for school groups, as well as assistance to teachers in planning unguided visits. There is a separate reception area for groups, where coaches can drop off passengers.
Guided Tour
Through artifact collections, research, exhibitions and public programs, the Museum works to preserve the heritage of Canadians and promote the cultures of Canada and the world.
Discover the living history of Canada! Treat yourself to a guided tour of our permanent halls. All tours last approximately 45 minutes and cost $3.00 per person.
Tour Bus Parking
Free parking is available year round at the Robert Guertin Arena, located at 125 Carillon Street in Gatineau, a few minutes from the Museum.
Bookings
Please register in advance.
Admission to Special Exhibitions is included in Group Admission fees.
Group Rates apply to groups of 15 or more.
Admission is free for children under three years of age.
When you buy a Combo that includes activities at the Canadian Museum of History and the Canadian War Museum, tickets are valid for three consecutive days, STARTING ON THE DAY OF THE FIRST VISIT.
Each Combo choice applies to the entire group. Activities cannot be divided up, and are non-transferable.
Because the Canadian Children's Museum can be busy, groups are strongly advised to reserve a specific time slot. If attendance is high, groups without reservations may be turned away.
Adult group leaders must remain with students and children at all times. Please refer to the Chaperone section of the Group Rates and Policies document.
Admission fees are subject to change without notice.
Prices may vary for certain feature films.
For more information download our Group Rates and Policies Brochure.
Group Admission Fees
Group rates apply to groups of 15 or more.
Taxes not included – Valid until December 31, 2020

Group Admission Fees
Adult / Senior (18 Years +)
Student / Child (3 – 17)
1 Museum
(Museum of History or War Museum)
$11
$8
2 Museums
(Museum of History and War Museum)
$16
$12
1 Museum + 1 CINÉ+ Film
(Museum of History)
$15
$11
2 Museums + 1 CINÉ+ Film
(Museum of History and War Museum)
$20
$15
School Program
$1 per program, per student
Guided Tour
$3 per person
Activity Sheets
$1 per sheet