Group Offers
The Museum offers engaging and interactive experiences tailored for groups.
Through artifact collections, research, exhibitions and public programs, the Museum works to preserve the heritage of Canadians and promote the cultures of Canada and the world.
Discover the living history of Canada! Treat yourself to a guided tour of our permanent galleries. All tours last approximately 45 minutes and cost $3.00 per person (in addition to Museum admission).
Tours offered:
Indigenous Peoples
Ancestral technologies and oral histories have been a part of Indigenous culture for centuries. During this hands-on guided tour, visitors will gain an understanding and appreciation for how traditional practices have impacted history in Canada from time immemorial to the present.
A Museum Overview
This hands-on guided tour explores the many amazing sights and stories at the Canadian Museum of History. A great introduction to the Museum, visitors will come away with a taste from three of our major exhibitions. They will gain an appreciation for the lives and contributions of those who came before us.
History of Canada
Walk through Canada's history from time immemorial to the present. This hands-on guided tour takes visitors through three galleries of the Canadian History Hall, highlighting key objects, people and important stories they may have missed in history class.
On-Site School Programs – Currently not offered
Enhance your visit to the Museum, and offer your group a unique journey through history and culture, with our outstanding selection of enlightening documentary films.
Currently playing CINÉ+ films can be booked by groups with a minimum of 15 people. Groups with reservations receive priority access to the cinema.
The Canadian Museum of History offers group meal options for small and large groups.
Group Lunch Room
The Group Lunch Room, located near the Group Entrance, is ideal for student groups who prefer to bring their lunch. It has drink and snack machines, and can accommodate one group at a time. Upon arrival at the Group Entrance, Group Leaders must reserve their lunch time. Space is attributed on a first-come, first-served basis. The Group Lunch Room will be cleaned between groups.
Panorama Café
The Panorama Café offers a wide range of breakfast, lunch, box lunch and snack options. The Café offers a large terrace overlooking the Ottawa River and Parliament Hill.

Bistro Boréal – Temporarily Closed
Savour dishes inspired from Canadian ingredients under a unique northern sky ambiance. In summer months, the terrace is a great vantage point from which to watch the activity on Laurier Street.

The Canadian Museum of History welcomes Indigenous Experiences, a popular National Capital tourism attraction since 2000. Indigenous Experiences is now located behind the Canadian Museum of History, near a site once used by Indigenous Peoples as a trading post, and as a place of friendship and celebration.
Set against a spectacular view of the Parliament Buildings and the inspiring architecture of the Canadian Museum of History, Indigenous Experiences brings Indigenous history and culture to life through engaging, authentic and interactive programming for visitors of all ages.
From May through October, groups can book guided tours of a reconstructed village, along with interactive Pow Wow dance performances, craft and music workshops, and traditional storytelling and songs alongside the Ottawa River.
Indigenous Experiences enhances any exploration of Indigenous heritage at the Canadian Museum of History — including popular features such as the stunning Grand Hall which focuses on Indigenous Peoples of the Pacific Coast, the First Peoples Hall which celebrates the history, diversity, creativity and resourcefulness of First Nations, Inuit and Métis, and the Canadian History Hall, where Indigenous stories are integral to a national narrative spanning 15,000 years.
Indigenous Experiences' talented cultural ambassadors look forward to welcoming you and sharing a small part of their heritage on traditional territory that is now home to the Nation's Capital.

Packages Offered
Feel the Heartbeat Workshop (1.5 hours)
Visitors explore the strong Indigenous connection to "the heartbeat of Mother Earth" in an interactive workshop that includes an opportunity to play horn rattles and hide drums, while also learning a traditional dance.
Traditional Dance and Tour (45 minutes to 1.5 hours)
This package includes an informative tour of the onsite Indigenous village, outlining the diversity of Indigenous cultures across Canada, followed by a lively interactive performance of traditional Pow Wow dancing that concludes with a shared "friendship dance."
Rates
Rates do not include taxes, and are subject to change.
Available for groups of 15 people or more.
Available from May to October.
Rates include Museum admission.
| Name | Adult | Youth (ages 3–17) |
| --- | --- | --- |
| Feel the Heartbeat | $25 | $19.50 |
| Traditional Dance and Tour | $28 | $21.50 |
| Traditional Dance and Tour — without Museum admission | $18 | $15 |
Reservations are required. Please contact us for more information, and to book.
Rabaska Canada (Canoe Tour)
Museum and Canoe Experience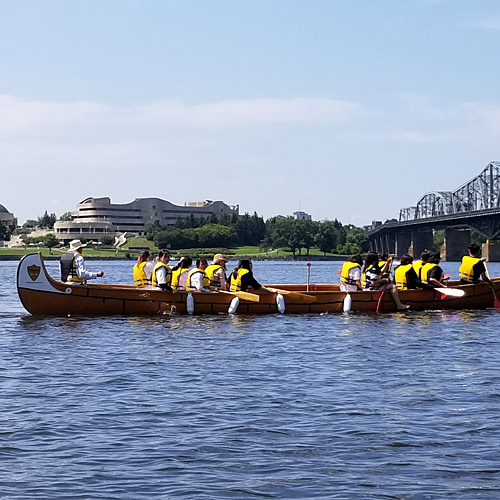 The Canadian Odyssey
Discover 15,000 years of Canadian history through the lives of those who experienced it. Following a fascinating guided tour, climb aboard a traditional Montréal canoe to trace the route of voyageurs during the late 1700s, as you explore the Ottawa River and its rich historical surroundings.
Details
Admission to the Canadian Museum of History.
90-minute expedition aboard a Montréal canoe on the Ottawa River, with a costumed interpreter, relating the life of the 18th-century explorers.
Reservations are required. Please contact us for more information, and to book.