FULL TOUR
A Museum for the 21st Century
To ensure that the museum can efficiently and effectively meet the needs of the collections, of staff, and of the visiting or remote publics, it has been necessary to think innovatively and to design a complex and sophisticated building which takes advantage of high technology: to control security and environmental systems; to provide media and communications systems; to manage the information which is a central product of museum operations and make it accessible to the public; to support public programming and exhibitions.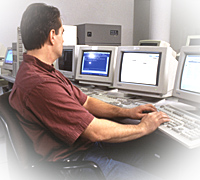 The museum's sophisticated computer and telecommunications network controls the building's environmental conditions, security systems, operational systems, multimedia delivery to the galleries, and Intranet and Internet services.
© Canadian Museum of Civilization, D2004-18579 (left),
D2004-18580 (right), CD2004-1376
The museum must not become a morgue for the remains of a dead past, but be a place where life is celebrated and new elements of our culture and identity are generated. If CMC is one of today's most fascinating and stimulating museums, it is in no small part because the building's form hearkens back to natural roots while its functions look ahead to the most modern technologies.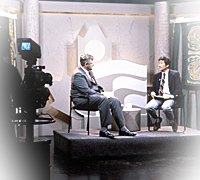 It is important to take advantage of all technologies, all techniques that might bring members of the public into a greater and more rewarding involvement with the museum. Consequently, the building incorporates an audiovisual studio capable of producing television or radio programming.
© Canadian Museum of Civilization, D2004-18581, CD2004-1376 (left),
D2004-18582, CD2004-1377 (right)