The Canadian Museum of History is proud to announce an important acquisition documenting the exceptional hockey career of Jim Neilson (1941–2020, Nehiyaw/Cree). The Jim Neilson Collection includes approximately 30 archival items and three objects documenting his hockey career from elementary school to the National Hockey League (NHL).
Generously donated to the Museum by Neilson's three children — Dana, Darcy and David — following his death in 2020, this collection reflects the unparalleled achievement of this hockey player in an era where there were only six NHL teams and very few Indigenous players in the league.
---
"Dad's journey was unparalleled. From his early years in the orphanage, to the NHL, to lending support to Indigenous communities, dad quietly left his mark. Since his passing in 2020, we have become increasingly aware of dad's impact on others. Sharing his life story will hopefully inspire others to believe in themselves and to strive for more, while also relaying important aspects of Canada's Indigenous history. Working with the Canadian Museum of History to preserve dad's legacy is an exceptional honour for our entire family." — Jim Neilson's children, Dana Neilson, David Neilson and Darcy Wade.
About Jim Neilson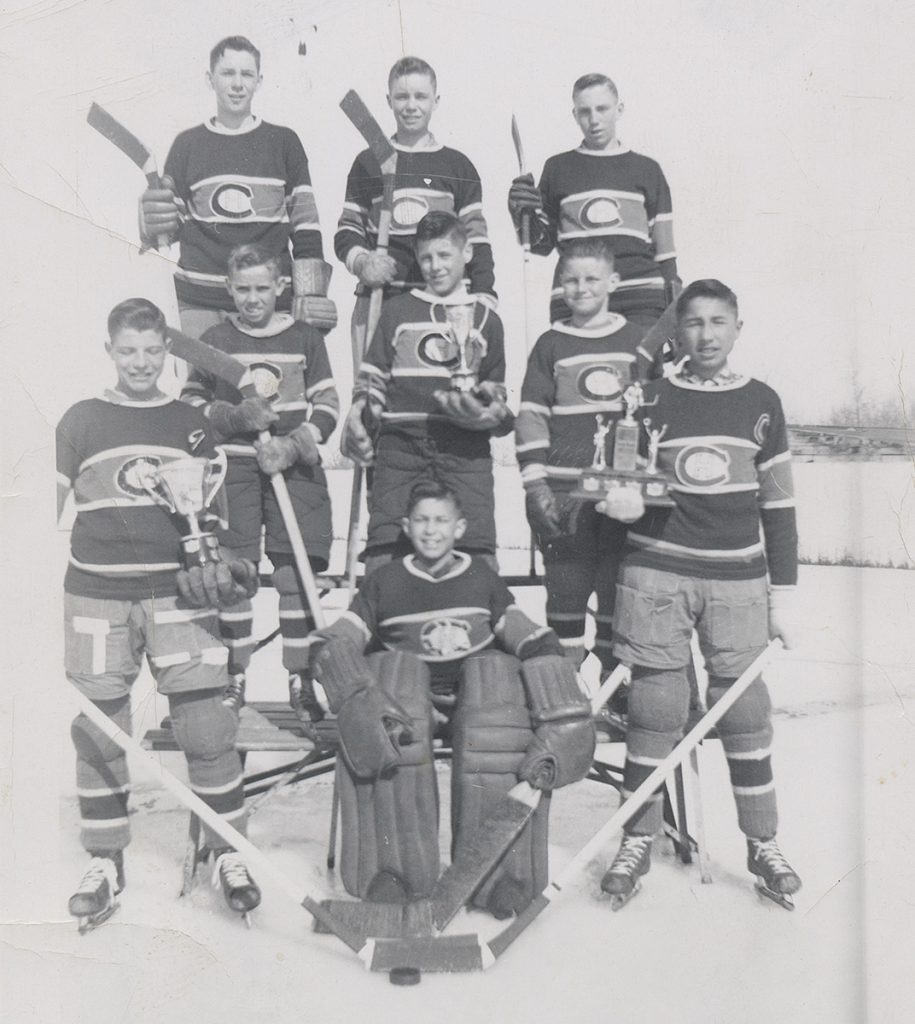 Jim Neilson (right), with captain's "C" on his sweater, holds a hockey trophy won by his childhood team.
Credit: Jim Neilson and his hometown hockey team, c. 1958, CMH
Jim Neilson (1941–2020, Nehiyaw/Cree) was born in Big River, Saskatchewan. The son of a Nehiyaw/Cree mother, Rosie Rediron, and a Danish-Canadian father, Olaf Neilson, Jim was taken in at St. Patrick's Catholic Orphanage when he was five years old. He was shaped by all the years he spent there, and it was during his time there that he learned to play hockey. At the orphanage, Neilson's talent for hockey quickly became clear, and he was a local star before being drafted into the National Hockey League (NHL).
Jim Neilson played defence in the NHL for 17 years. He played for the New York Rangers (1963–1974), the California Golden Seals (1974–1976), and the Cleveland Barons (1976–1978), before wrapping up his career with the Edmonton Oilers (1978–1979). Neilson played in 1,023 regular-season games, amassed 368 points (69 goals, 299 assists), and played in 65 Stanley Cup Playoff games, where he contributed 18 points (one goal, 17 assists).
Nominated for rookie of the year his first season, he went on to be nominated five times for the NHL's Norris Trophy as best defenceman. Ranked as one of the best players ever to play for the New York Rangers, he was also named to four All-Star Teams in his career and was inducted into the Saskatchewan Sports Hall of Fame in 2010.
Like other Indigenous players of the era, Neilson was often called "Chief." This and other racist stereotypes were frequently part of the media's coverage on Neilson. He never spoke publicly about these experiences, responding instead with decades of outreach among Indigenous children and communities.
Video
The Special Display
Until October 1, 2022, the public will have the opportunity to see the hockey gloves and skates worn by Jim Neilson in the NHL with the New York Rangers. These objects will be on view in a special display in the Museum's lobby, which can be accessed for free.
"Big River First Nation is extremely proud of the accomplishments of the late Jim Neilson, Big River First Nation band member and former NHL Alumnist. We would also like to thank the Canadian Museum of History for honouring Mr. Neilson's legacy through the exhibition of Neilson's memorabilia. Mr. Neilson's lifetime achievements truly are an inspiration for our community and for hockey fans everywhere." — Chief Jack Rayne, Big River First Nation.
---
Photo at top of page:
The hockey gloves and skates worn by Jim Neilson in the NHL with the New York Rangers.
Canadian Museum of History, IMG2022-0136-0003-Dm