Overview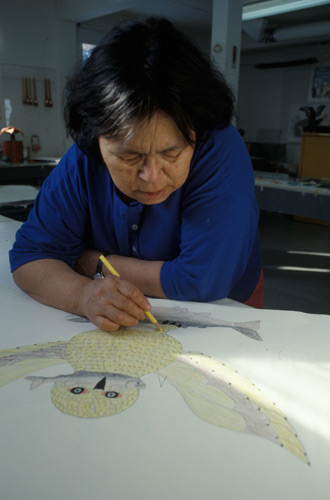 Qaunak Mikkigak using coloured pencils to draw a snowy owl with a fish in its beak and a second fish in its talons photo Jimmy Manning, 1992-1993,
IMG2008-0938-0102-S,
Photo © CMC
For the most part, printmaking in Cape Dorset has involved at least two artists and two distinct stages of production:
The artist, or draftsperson, creates an original source drawing on paper and submits it to the studio. The print studio purchases virtually all drawings made by Inuit artists in Cape Dorset. From this bank of drawings, the printmakers and studio manager collaboratively select a small group of images to be made into prints every year.
After choosing a suitable drawing, the second artist (the printmaker) translates the drawing into a finished print using an appropriate technique or combination of techniques: stonecut, stencil, etching or lithography, mainly. The printmaker prepares the print block or stencil, selects the colours, and carefully creates not more than 50 copies of each print, all for sale in the South.
Explore the various techniques from the menu on the left.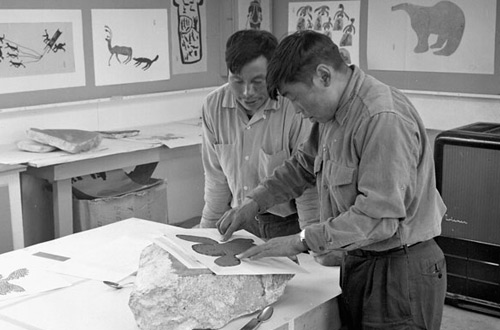 Iyola Kingwatsiaq and Eegyvudluk Pootoogook creating a stone block print photo Rosemary Gilliat Eaton, 1960,
Library and Archives Canada, Photo © CMC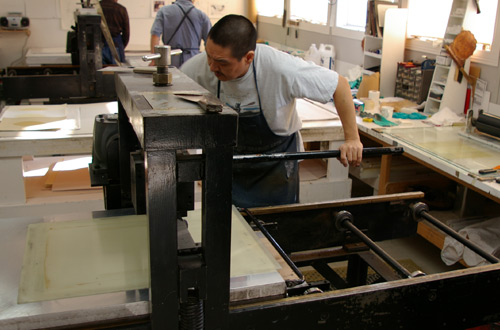 Niviaqsi Quvianaqtuliaq creating a lithograph photo Norman Vorano, 2009, IMGP6557, Photo © CMC