Cape Dorset Prints at the Canadian Museum of Civilization

Our Shared Legacy

Inuit Prints from Cape Dorset makes Canada's national collection of Inuit prints from Cape Dorset, in Nunavut publicly available for research, scholarship and appreciation. This website was made possible through a grant from Canadian Heritage, the assistance of Dorset Fine Arts, and the assistance of the West Baffin Eskimo Cooperative in Cape Dorset.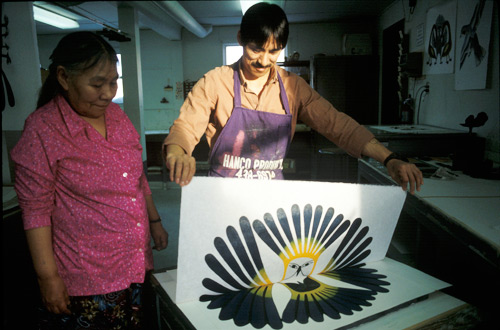 Kenojuak Ashevak and Kavavaow Mannomee in the process of creating the print "The Sun's Return", created by the stonecut and stencil technique photo Jimmy Manning, 1992-1993,
IMG2008-0938-0015-S, Photo © CMC
The Canadian Museum of Civilization purchased its first contemporary Inuit carvings in 1953. For more than 50 years, the Museum has continuously supported contemporary Inuit art through an active and evolving program of exhibiting, collecting, research and publishing. The relationship between Inuit artists and the Museum continues today.
Printmaking was introduced in the Arctic in the late 1950s. The Museum helped this new art flourish by acquiring complete annual collections of Inuit prints, which formed the basis of exhibitions at home and abroad. Inuit prints were acquired by the Museum in three ways:
by direct purchases from Arctic co-operatives, artists or Southern retailers
as donations from the public
as gifts from the Department of Northern Affairs and National Resources
Today, the Museum builds its print collection through purchases and donations. This collection—a unique national treasure—is an important part of Canada's artistic and cultural history. Want to donate? Here's how you can be a part of the story.
While the Canadian Museum of Civilization hopes to make its entire print collection available online some day, Cape Dorset, the birthplace of Inuit printmaking, is our starting point. The Museum's collection of Cape Dorset prints spans over five decades, from 1957 to the present. The collection, numbering almost 3,000 prints, shows the ongoing artistic and technical innovation and change in over three generations of Cape Dorset art.
Pitaloosie Saila, surrounded by children, using coloured pencils to draw what would become a print depicting two women photo Jimmy Manning, 1992-1993,
IMG2008-0938-0302-S, Photo © CMC
Prints also cover a great variety of themes. Some illustrate scenes from myth and memories of the old ways of life, while others depict the transforming life in the Arctic and the influence of outsiders. The land, ocean and Arctic animals are frequent subject matter, and evidence the deeply felt bonds between Inuit artists and their natural world. The artworks make eloquent statements about Inuit identity — past and present — and offer a unique window into Canada's history.