The Canadian Museum of History is closed until further notice due to the latest COVID-19 restrictions.
Bring your kids to the Children's Museum and they won't want to leave!
The Museum lets the kids travel the world, while enriching their lives and broadening their experience by exploring other cultures through exhibitions, costumes, hands-on props, and artifacts, including an extraordinary assortment of toys and games.
They can clamber aboard a lavishly decorated Pakistani bus and a three-wheeled auto rickshaw from Thailand. Or step inside a Bedouin tent and homes from India, Indonesia and Mexico. The Museum's diversity and richness engage children of all ages, allowing them to explore and learn through play at their own pace.
It's a fun, memorable first step in a child's understanding of the arts, culture and history.
The Canadian Children's Museum is located inside the Canadian Museum of History. Admission Fees to the Canadian Museum of History include access to the Children's Museum, special exhibitions and to all the Museum's galleries.
Focus on fun at the Children's Museum
Focus on fun at the Children's Museum: What am I? These images feature your favorite objects at the Children's Museum. Can you identify them? Click on the image to reveal the answer.
What am I?
Children's Museum Image Gallery
Birthdays at the Children's Museum
The perfect place for a memorable birthday party!
Celebrate at the Children's Museum with creative and fun-filled activities designed to spark to curiosity of children aged 3 to 12.
The party includes:
One hour in a private party room;
Admission to the museum;
Unlimited time in the Children's Museum (until closing);
One hour animation*
* Only with the "Scene-Stealers" and "Around the World" themed-party.
Your choice of themes:
Regular cost
(up to 10 kids and 2 adults)
Members
(up to 10 kids and 2 adults)
+ extra adult
+ extra child
Themed-party
Scene Stealers
10 a.m. and 2 p.m.
$190
$180
$10 each
$10 each
Themed-party
Around the World
10 a.m. and 2 p.m.
$190
$180
$10 each
$10 each
DIY Party
10 a.m., 12 p.m. and 2 p.m.
$100
$90
$10 each
$8 each
The Children's Museum requires a ratio of one adult for every five children. Maximum of 18 people for the "Scene Stealers" and "Around the World" parties and a maximum of 30 people for the DIY Party.
Payment is due in full upon registration. Registration is required a minimum of two weeks in advance.
Reservations:
819-776-7014
information@historymuseum.ca
Scene-Stealers
Ages 3 to 8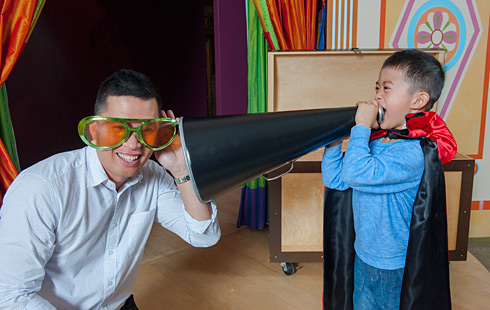 Step into the spotlight with a behind-the-scenes trip to the Theatre. Choose a costume and make a grand entrance into fun!
Put the spotlight on fun for your next birthday! Our Theatre Director will take you and your friends behind the scenes for a taste of life in the theatre, and teach you the secrets of make-believe. Your first role is to design a backstage pass, giving your group VIP access to the Canadian Children's Museum Theatre. Get into character by diving into our amazing costume trunk. Find the perfect outfit for your role, add some accessories, then lead a parade to the Theatre. After your grand entrance, the Director will help you warm up with some theatre games, and teach you some stage skills to get you ready for the limelight! With your backstage pass, you and your friends can play with all kinds of props, and learn how the sound and lighting systems work. Now take a bow!
Around the World
Ages 4 to 7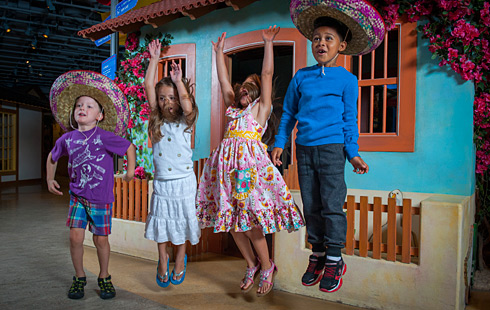 Take an unforgettable trip around the world to try Nigerian drumming and Japanese origami, learn a traditional Mexican dance, and make a piñata!
Take your friends on a whirlwind trip around the world, and see how children from different cultures celebrate special occasions. This unforgettable journey through the International Village is packed with fun and creative activities for young adventurers. Guided by an intrepid Explorer, you will climb aboard a Pakistani bus and travel to Nigeria, where you will pick up the beat of traditional drumming and join a musical parade. Next, visit Japan to learn traditional paper crafts and then make your way to Mexico to learn the raspa, a traditional folk dance performed at celebrations. Lastly, head over to the Factory, where you and your friends will make individual piñatas to take home as souvenirs of your special day.
DIY Party
Ages 5 to 12
The DIY Party option offers an alternative to one of our staff-led thematic parties. DIY Party includes Museum admission (10 kids, 2 adults), and one hour of free time in one the Museum's party rooms. A great option for parents looking to plan their own activities!
Frequently Asked Questions: Themed parties – Scene Stealers and Around the World
Frequently Asked Questions: DIY Party