Photo: Don Hall
Bob Boyer – His Life's Work is the first large-scale exhibition devoted to this influential Métis artist, whose entire life was devoted to advocating the contributions of First Peoples to the cultural and social life of Canada.
Featuring 58 works of art produced between 1968 and 2004, the exhibition takes a fresh look at Boyer's exploration of traditional motifs, which he used to reveal important aspects of contemporary Aboriginal life.
While Boyer worked in a variety of media throughout his career, he is perhaps best known for his acclaimed series of blanket paintings. Using flannel blankets as the painting surface, Boyer combined elements of historical Northern Plains design with personal symbolism and contemporary references. For the most part, these "blanket-statements" depict the harmful impacts of the colonial process on Aboriginal philosophies, land, religions and cultures.
Organized by the MacKenzie Art Gallery in collaboration with the Canadian Museum of Civilization and made possible in part through a contribution from the Museums Assistance Program, Department of Canadian Heritage.
Activities organized in conjunction with the exhibition
Tie-Dye Symmetry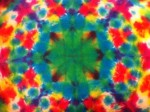 From September 1 to 30
Create your own symmetrical art. Drop-in workshop, no reservation required.
For more information, click here.