Meet Simon Brascoupé!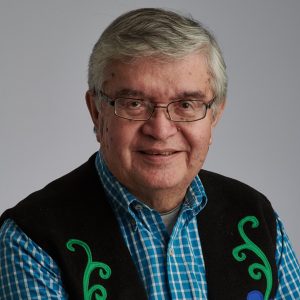 Photo: Simon Brascoupé
Simon Brascoupé is a Kitigan Zibi Anishinabeg artist living in Algonquin territory here in Ottawa. He has completed many public art projects, including Algonquin Birch Bark Basket at Place Abinan in Gatineau, a large mural for the Heart Institute in Ottawa, and a mural for the Ojigkwanong Indigenous Student Centre at Ottawa's Carleton University. He has completed two large public artworks for Ottawa's Pimisi Station: Màmawi – Together, a canoe paddle installation painted by 100 Algonquin artists, and Algonquin Moose. His artistic vision is for Algonquin and Indigenous art and culture to have a significant presence in public art and institutions.
Simon's goal is to communicate traditional teachings and values through the continuity of imagery and narrative. His work has been exhibited in the United States, Canada, Europe, China, Japan and Cuba. He is represented in the collections of the Canadian Museum of History and the Smithsonian Institution in Washington, D.C., and in major corporate and private collections. His work can currently be seen in the Canadian and Indigenous Art exhibition at the National Gallery of Canada.
Simon's work reflects his respect for the Algonquin territory and land. From his perspective, animals teach humans how to see the world through their eyes and actions. His father taught him, for example, that the bear, when it's wounded, will use the sap from a pine or cedar tree as medicine. An Algonquin teaching is that — even though the bear is large — it lives lightly on the land. Indigenous peoples traditionally have listened to and learned from the animal world and nature, because of their profound insight and knowledge. This ability to observe is central to the artist's vision of living in harmony with nature.
---
Simon Brascoupé nigishko!
Kitigan zibi anishnabe kak odjiba mizinbegeh-ini Simon Brascoupé, Ottawa, anishnabe odiki kak tijikeh nogom. Ogi kishton eh kinamagozitc kidja kishkatok kegoni tapishkot: Anishnabe wigwamot abinan ka ijinkadehnik, ki mizinibigeh Heart Institute odja ka ijinkadehnik mamowi, Ojigkwanong Indigenous Student Centre, ka ijinkadenik, Carleton University, ijinkadehni. Nijin ogi kishton ka mizinbigetc Pimisi Station odja: Mamowi- mamowi mokijiyeh ka ikidinanok, ki tijwigehyok, 100 anishnabe mizinbegehni mamowi anishnabe kashwagaginehgabwitc. Ka pigosendik dish, kidja nisidwabidjigadenik ododimitawin eh ija anishnabeyotc dish, anishnabe odebwetimowin kidja wabidjigadenik.
Eh ija wabidik simon, kidja kendagonik acitc kidja nodjigadenik agoneni ka wi tibadjimotc omizinbigini kak. Pashine kak acitc ki naktcigadeni ododimitawin Simon, oma Canada mamowi Europe mamowi China, Japan actic Cuba. Mane awesh kinedagoni odinozowin, Kitchi migwam Canadian Museum of History, ka ijinkadenik, Smithsonian Institution, Washington mamowi kodigik ka kinendasowatc Indigenous. Nogon ki asagini National Gallery of Canada Canadian and Indigenous Art exhibition.
Nagoni Simon Brascoupé eh kopiyonadjin odinshinabemin mamowi odikiya. Win eh ija wabidik, awesizik ka kinamowadjin pemadijin adi win ehja madizitc awesis. Tapshikotc, Simon odadamin ogi kinamagon mokon, ishpin akozitc moko, mitik kak oga-odinan kidja minomadizith, mi-weni omishkim. Anishnabe kinamagewin, misowatc moko mididitc ogikinamagewini. Ogak kendan anishnabe kidja nditowadjin awesisin, mi ima eh odinik anishnabe midinenjigan. Panima kiga wabidan, oma okitkimieh eh ija mino madizitc.
---
Photo at top of page:
Algonquin Ancestral Medicinal Knowledge – Summer
By Simon Brascoupé