Newfoundland Toutons
Food is a way for us to be transported via new flavours, and new cultures. In this month's recipe, we are travelling to Newfoundland, where I lived for most of my twenties, while attending graduate school at Memorial University.
When I moved to St. John's, I quickly became interested in the culinary landscape of my new home — one that was very different from my Italo-Québécois childhood. Newfoundland favourites such as fresh cod, parsnips, molasses and savoury became staples in my tiny student kitchen.
On my first morning in Newfoundland, I went out for breakfast at a local pub and decided to try a local favourite: toutons. Not knowing the proper pronunciation, I called them "tootans," which amused the server to no end (it's pronounced "tow-tens," like "mountain," should you find yourself in St. John's).
Like many folk foods, toutons are known by several names. The Dictionary of Newfoundland English indicates that they are also known as flacoon, bangbelly and damper devil, depending on region and variance.
Toutons are the ultimate in breakfast comfort food: golden, pillowy pieces of fried bread dough, smothered in rich, flavourful molasses. If food could give hugs, toutons would specialize in bear hugs. The origin of toutons is unclear, but sources suggest that they were traditionally made using leftover bread dough that had risen overnight, which was then fried, and served with molasses and scrunchions (fried bits of pork fat).
Foods with local significance can tell us a lot about the people who make them. They can also give us a sense of how people use these foods to express their own identity. Molasses, for example, was part of the trade relationship between the West Indies and Atlantic regions in the 18th century, and was an important food to the region's earliest settlers.
During the 19th century, molasses played a significant role in everyday cooking. It was used to bake, to sweeten tea, and as a simple meal when spread over slices of bread. Molasses in the 21st century has taken on nostalgic, symbolic meanings as well, linking past and present to romanticized notions of regional history, poverty, identity, while at times invoking narratives of resilience.
With the popularity of bread-making at an all-time high in 2020, toutons are a creative way to add some variety to your morning using your favourite bread dough. And, fear not, if you don't have a favourite dough or toutons recipe, feel free to use mine below!
---
Recipe and instructions
Dough
Ingredients
375 ml (1½ cups) of warm water
5 ml (1 tsp.) of sugar
7.5 ml (1½ tsp) of salt
11.25 ml (2¼ tsp) of bread yeast
875-1,000 ml (3½–4 cups) of white flour
Add the sugar, salt and yeast to 125 ml (½ cup) of warm water.
Give the mixture a quick stir and set it aside for five minutes to ensure that the yeast is active. By then, it should be bubbly and beginning to froth.
Add the water, yeast, sugar and salt to 750 ml (3 cups) of flour in a large bowl, and mix.
Add the remaining 250 ml (1 cup) of warm water, and continue mixing.
Add the last 250 ml (1 cup) of flour a little at a time. You may not need all 1,000 ml (4 cups), depending on the specific flour you are using. Once the dough is too thick to mix in the bowl, begin to knead it on a floured surface, adding additional flour if the dough becomes too sticky.
Once the dough is smooth and uniform, cover it and leave it to rise in a large, greased bowl for an hour, or until it has doubled in size. Placing it inside an oven with the light on is ideal (no further heat required).
Once the dough has finished rising, punch it down and knead it for 2–3 minutes on a lightly floured surface.
Toutons
Cut your dough into even slices, and shape each slice into a pancake-like round.
Heat a pan on the stove, and add 15 ml (1 tbsp) of oil (make sure to use an oil that is safe at medium-high heat; I like coconut oil).
Place the dough rounds in the pan and cook until each side is golden brown.
Continue until all the rounds are cooked.
Drizzle (or drown!) the rounds in molasses and enjoy.
About Laura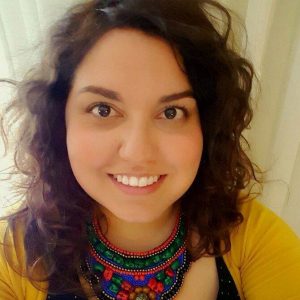 Laura Sanchini is the Museum's Curator of Craft, Design and Popular Culture. She is a specialist in the study of vernacular material culture (the things people make) and oral history (the stories people tell). Growing up in a big immigrant family in Montréal, Laura was surrounded by her family's culinary traditions, which sparked her interest in the study of food culture.
Laura is a weekly volunteer at a local farm sanctuary, where she helps care for the cows, sheep, goats, horses, pigs and birds that call the sanctuary home. Her favourite is a sheep named Rose (but don't tell the other animals). In her spare time, Laura is a dilettante musician, a novice rug hooker and a passionate painter.
Further Reading
Barer-Stein, Thelma. 1999. You Eat What You Are. People, Culture and Food Tradition. Willowdale, ON: Firefly Books.
Conlin, Dan. 1996. "A Private War in the Caribbean: Nova Scotia Privateering, 1793–1805." The Northern Mariner/Le Marin du nord 6: 29–46.
Jesperson, Ivan F., ed. 1974. Fat-Back and Molasses. A Collection of Favorite Old Recipes from Newfoundland and Labrador. St. John's, NL: Jesperson Publishing.
Jones, Michael Owen. 2007. "Food Choice, Symbolism, and Identity: Bread-and-Butter Issues for Folkloristics and Nutrition Studies." Journal of American Folklore 120: 129–77.
Jones, Michael and Long, Lucy. 2020. Comfort Food Meanings and Memories. Jackson: University Press of Mississippi.
Tobin, Beth Fowkes. 1999. "And There Raise Yams: Slaves' Gardens in the Writings of West Indian Plantocrats." Eighteenth-Century Life, 23, 2: 164–76.
Tye, Diane. 2008. "A Poor Man's Meal." Food, Culture & Society, 11: 3, 335–353.