The spectacular Grand Hall offers an introduction to the history, cultures and beliefs of the First Peoples of Canada's Pacific Coast. With its curving, six-storey window wall and unrivalled view of Parliament Hill, the Grand Hall is one of the country's most impressive indoor public spaces and the Museum's architectural centrepiece.
Visitors will discover six iconic Native houses connected by a Pacific Coast shoreline and boardwalk, magnificent totem poles, the original plaster pattern for Spirit of Haida Gwaii by celebrated Haida artist Bill Reid, and Raven Bringing Light to the World, a gold-on-bronze sculpture by Robert Davidson.
Behind the house facades and boardwalk are two exhibitions: First Peoples of the Northwest Coast and From Time Immemorial – Tsimshian Prehistory.
First Peoples of the Northwest Coast offers a fascinating look at this renowned culture — a culture that is firmly rooted in history, but continues to thrive and evolve in the 21st century. Recently redesigned, the exhibition is organized by themes and offers a selection of historic and contemporary artifacts from the Museum's pre-eminent collection.
From Time Immemorial – Tsimshian Prehistory reproduces the archaeological excavations carried out from 1966 to 1978 in the Prince Rupert region of British Columbia. In an ancient forest setting, the exhibition presents the way of life of the Tsimshian nation in prehistoric times and the role of the archaeologist in bringing the past to light.
Complete your visit by picking up the Grand Hall souvenir catalogue, on sale online and at the Museum Gift Shop.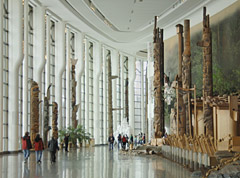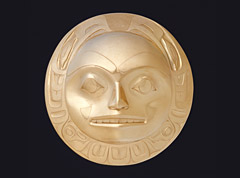 Grand Hall
CMC, photo Steven Darby, IMG2009-0096-0003-Dm
Spirit of Haida Gwaii by Bill Reid
CMC, photo Steven Darby, IMG2009-0111-0001-Dm
Raven Bringing Light to the World by Robert Davidson
CMC, photo Harry Foster, S89-1738
Morning Star by Alex Janvier
CMC, photo Steven Darby, IMG2010-0133-0004-Dm

Photo at top of page:
IMG2018-0032-0002-Dm