Join us for the Museum's Annual Tree Lighting Ceremony!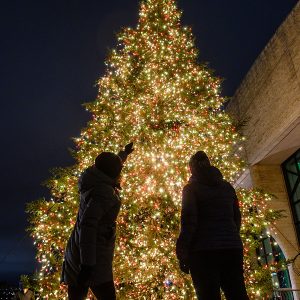 Photo: Marie-Andrée Blais
Join us for the Museum's 8th annual Tree Lighting Ceremony. This tradition also kicks off the Museum's Christmas Market.
Come enjoy music and dance by l'Ensemble folklorique de la Gatineau, along with complimentary hot chocolate, gingerbread cookies, and maple taffy on snow (while quantities last).
Invite family and friends to the official countdown, and don't forget to dress warmly to fully appreciate this outdoor activity.
We look forward to celebrating together!
Book your ticket online as of November 9.
Giving back to the community
We are calling on your generosity to brighten up the holiday season for those in need by collecting non-perishable goods to be distributed to organizations on both sides of the river. What is involved? Simply bring in a non-perishable good and place it in the box provided!
We greatly appreciate your support during this festive season.
November 23, 2023, to January 8, 2024
Come admire the Museum's dazzling outdoor tree throughout the holiday season. Adorned with thousands of white lights, the tree will illuminate the Museum's Plaza from November 23, 2023 until January 8, 2024.
Supported by Black and McDonald.
Photo at top of page:
Marie-Andrée Blais