IMAX Club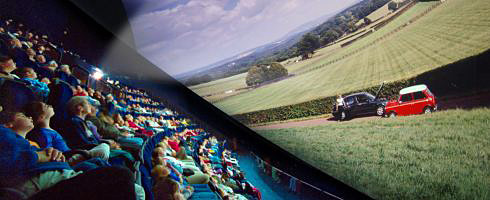 Welcome to the IMAX® Club
Only IMAX makes you feel like you're really there.
Membership Privileges
One year of
Unlimited access to regular-priced IMAX films
Discounted price on special programming at the IMAX Theatre
Invitations to special screenings
VIP access to the IMAX Theatre
25% discount on Museum parking (evening parking for IMAX films is free)
10% discount on food services and gift shop purchases, at both the Canadian Museum of History and the Canadian War Museum
20% discount for holiday-season shopping at the Museums' gift shops
Discounts on selected ticketed events at the Museums
Subscription to the Members-only e-newsletter
Note: Discounts on the Museums' restaurants and Boutiques do not include alcoholic beverages, gift cards, merchandise on sale and stamps.
IMPORTANT: Please ensure that we have your most up-to-date email address. The Members-only newsletter, exclusive invitations and other news are sent by email only.
Membership Prices
(tax not included)
$29 CHILD | Ages 3-12
$29 STUDENT | 1 full-time student (if 18+, proof is required)
$29 SENIOR | Ages 65+
$39 ADULT | Ages 18–64
$109 FAMILY | Family of 5, max. 2 adults
A special 15% discount* will apply on your Membership purchase if:
You live over 100 km from the Museum
You buy additional years upfront (discount applies to each additional year)
*These two offers cannot be combined.
Note: Memberships are not transferable or refundable.
It's easy to become a Member!
Choose the most convenient option:
In person at the Museum's Box Office
By phone at 819-776-7100
By mail at the following address (registration form):
IMAX Club / Membership Program
Canadian Museum of History
100 Laurier Street
Gatineau (Québec) K1A 0M8
Confidentiality: We do not sell or share our mailing lists. Your personal information is accessed only by internal Museum services so that we can better assist you. For more details, read our Privacy Statement.
Contact us
We value your comments and questions! Please do not hesitate to write us at membership@historymuseum.ca. You can also call us, during our hours of operation, at 819-776-7100 (1-800-555-5621, choose "2" for English, then "1," followed by "3" for the Members' VIP line).