Treasures from the Canadian Museum of Civilization and the Canadian War Museum
By Frank Corcoran and Victor Rabinovitch
May 2011, ISBN 978-0-660-19915-3
172 pages, 190 figures, 9" x 11", paperback
$49.95 (also in French)
Treasures from the Canadian Museum of Civilization and the Canadian War Museum is a beautifully constructed book that presents 100 carefully photographed and vividly explained Canadian treasures, some of which have never been or may never be publicly displayed. Whether it is the last Red Ensign that flew over Parliament Hill or the medals and memorabilia from Canada's military heroes, the treasures described in this book are a reminder of our country's rich human and military history.
The G-Wagen
Gun used to assassinate Thomas D'Arcy McGee
Treasures is designed to appeal to a broad spectrum of the Canadian public. It is an excellent read, and makes the perfect gift for any history buff, collector or photographer.
Frank Corcoran was as a senior executive at the Canadian Museum of Civilization.
Dr. Victor Rabinovitch was President and Chief Executive Officer of the Canadian Museum of Civilization Corporation, which is responsible for the Canadian Museum of Civilization and the Canadian War Museum.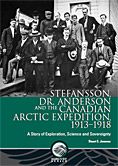 Stefansson, Dr. Anderson and the Canadian Arctic Expedition, 1913–1918: A Story of Exploration, Science and Sovereignty
By Stuart E. Jenness
April 2011, ISBN 978-0-660-19971-9
440 pages, 64 figures, 20 maps, 6.75" x 9.5", paperback
$39.95 (English only)
This book presents the first comprehensive account of one of the great sagas of Arctic exploration and discovery, the Canadian Arctic Expedition of 1913–1918, led by the ethnologist/explorer Vilhjalmur Stefansson and the zoologist Dr. Rudolph M. Anderson. Within its pages are details of the Expedition's successes and tragedies, including the discovery of all but one large island north of the Canadian mainland, the accumulation of considerable scientific information and valuable collections, and the personal feud of the Expedition's two leaders. Four appendices list Expedition personnel, fifty-three geographical sites in the Arctic named after them, locations of their diaries and collected specimens, and the thirteen government volumes arising from the Expedition. The book is illustrated with sixty-four photographs and twenty maps.
Stuart E. Jenness (PhD, Yale) is uniquely qualified to tell this story. He is the second son of Diamond Jenness, one of two ethnologists on the Expedition, and he met eight of the fourteen members of the Expedition's scientific team, including both leaders. Following several summers of geological field work in Quebec, the Northwest Territories and Newfoundland, he served between 1954 and 1985 as scientific editor for the Geological Survey of Canada and then the National Research Council of Canada. Retired since 1985, he edited Arctic Odyssey: the Diary of Diamond Jenness, 1913–1916, co-authored (with his late father) Through Darkening Spectacles: Memoirs of Diamond Jenness, and wrote the prize-winning book, The Making of an Explorer: George Hubert Wilkins and the Canadian Arctic Expedition, 1913–1916.

Inuit Prints: Japanese Inspiration. Early Printmaking in the Canadian Arctic
By Norman Vorano
Essay by Asato Ikeda and Ming Tiampo, and contributions from Kananginak Pootoogook
January 2011, ISBN 978-0-660-19970-2
100 pages, 49 artworks, 22 photos, 9" x 10", paperback
$29.95 (also in French)
Some fifty years ago, the remote Inuit community of Cape Dorset in the Canadian Arctic was introduced to the ancient traditions of Japanese printmaking by a Canadian artist, James Houston, who had studied printmaking in Japan with the revered master printmaker Un'ichi Hiratsuka. The remarkable story of that artistic encounter and its extraordinary results are the focus of this groundbreaking exhibition catalogue. With two major essays and detailed captions, the book features 49 exquisite and rare artworks (including Inuit prints from 1957 to 1963 and Japanese prints that were brought to Cape Dorset in 1959, as well as never-before-seen works by James Houston), and shows how Cape Dorset graphic artists selectively borrowed and actively transformed Japanese influences. It includes the voice of Cape Dorset printmaker Kananginak Pootoogook, as well as previously unpublished historic photographs from Japan and Cape Dorset.
Dr. Norman Vorano is the Curator of Contemporary Inuit Art at the Canadian Museum of Civilization in Gatineau, Quebec. A graduate of the Program in Visual and Cultural Studies at the University of Rochester, New York, his areas of research include historic and contemporary Inuit arts from across Canada, with wider interests in North American Indigenous arts. He is on the Board of the Native American Art Studies Association and is a Fellow of the Royal Canadian Geographic Society. He is currently producing an exhibition and catalogue on contemporary artists from Cape Dorset.