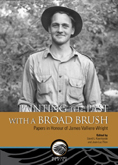 Painting the Past with a Broad Brush: Papers in Honour of James Valliere Wright
Edited by David L. Keenlyside and Jean-Luc Pilon
October 2009, ISBN 978-0-660-19912-2
768 pages, 227 figures, 55 tables, 6.75" x 9.5", paperback
$39.95 (English only)
For over 50 years, J. V. Wright was a ground-breaking leader and inspiring mentor for the Canadian archaeological profession. This publication brings together 23 scholarly articles on various aspects of Canada's ancient past that pay tribute to and reflect J. V. Wright's diverse geographic and cultural interests in relation to Canadian archaeology and pre-history. This exceptional festschrift includes an annotated bibliography of J. V. Wright's works.
Profit and Ambition: The Canadian Fur Trade, 1779–1821
By David Morrison
September 2009, ISBN 978-0-660-19914-6
64 pages, 80 colour images, 8" x 8.5", paperback
$19.95 (also in French)
Re-live the heroic days of the Canadian fur trade, a period of a little more than forty years when a group of Montréal traders pushed the limits of European exploration and commerce west from Lake Winnipeg to the Pacific Ocean and north to the Arctic.
The North West Company was established to control competition among a number of independent Montréal fur-trading companies. It brought together mainly Scottish businessmen and partners, French-Canadian voyageurs and their "country wives", Métis bison-hunters, and Aboriginal trappers and their families in a commercial enterprise which forever changed Canada's position in North America.
Discover Canada's "Wild West" through period maps, art, papers and the many beautiful objects which document this adventurous period in our history.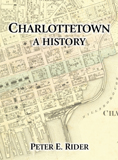 Charlottetown: A History
By Peter E. Rider
June 2009, ISBN 978-0-920434-37-6
474 pages, 210 illustrations (27 colour), 8" x 10", cloth
$49.95 (English only)
Charlottetown is a unique community. It's the smallest provincial capital in Canada, but it's also one of the oldest. For more than a century, it was the only city on a predominantly rural Prince Edward Island. This gave it advantages that no other city in Canada enjoyed. It also generated problems no other city had to deal with. How Charlottetown played the advantages, and coped with the problems, makes for fascinating history. Population, political, and social life, the urban landscape and the economic events that shaped metropolitan growth—Charlottetown: A History brings these themes together in a book that will reward both the professional historian and general reader. Over the years, many aspects of this history have been explored but never as a whole. This is the urban biography of the Birthplace of Confederation.
In 1973 following a brief, but rewarding, experience teaching history at the University of Prince Edward Island, Peter Rider returned to his native Ottawa to commence a career as a public historian. As Atlantic Provinces Historian and Curator at the Canadian Museum of Civilization for over 30 years, he served as the principal co-ordinator of the Atlantic Canada Newspaper Survey, Editor in Chief of Material History Review, and lead curator for a multi-institutional project on the Atlantic fisheries. He has edited three books and a CD-ROM and has authored numerous articles and chapters of books in the fields of urban, material, public and social history with an emphasis on the Atlantic Provinces and, in particular, Charlottetown. He has curated exhibitions covering a wide range of subjects. For the last decade, Dr. Rider has also been an Adjunct Professor at the University of Ottawa.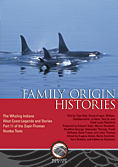 Family Origin Histories: The Whaling Indians – West Coast Legends and Stories. Part 11 of the Sapir-Thomas Nootka Texts
Told by Tyee Bob, Sa:ya:ch'apis, William, Qwishanishim, Lo:tisim, Tayi:? a and Chief Louie Nookmiis
Edited by Eugene Arima, Henry Kammler, Terry Klokeid and Katherine Robinson
Prepared by Edward Sapir, Morris Swadesh, Hamilton George, Alexander Thomas, Frank Williams, Katie Fraser and John Thomas.
April 2009, ISBN 978-0-660-19898-9
400 pages, 62 images, 6" x 9", paperback
$34.95 (English only)
Nuu-chah-nulth "family histories" are actually tribal histories since their idea of family encompasses the tribe. Eighteen such histories are presented here, chronicling the origins and resources of a number of tribal families. In lieu of written records, these oral traditions stood as Nuu-chah-nulth history and were recited formally in public on ceremonial occasions. Several accounts give long lists of foods. Others describe the acquisition of important technological advances, such as a salmon trap. Half of the texts are short, focusing on a particular item like a mask or a house decoration. One text lists hundreds of Nuu-chah-nulth place names given mythically by Swan Women to the Port Alberni region, which was previously Salish in population and language. Generally, these histories explain how the world came to be and set forth family claims to material and spiritual resources. Each account belonged to the family, which had the exclusive right to tell it publicly. Summary outlines are provided in the introduction.
Qwishanishim told of "The Origin of the Ho?ol?ath" in 1914 at Kildonan by the mouth of Alberni Inlet. He is the outstanding raconteur historian from Ucluelet whose gripping accounts of Nuu-chah-nulth warfare have appeared earlier in Native Accounts of Nootka Ethnography (Sapir and Swadesh 1955: 356-443). Qwishanishim means "The One That Smokes," a nickname from his smoking grass to survive the 1862 smallpox epidemic. Referred to as "an old man" by Alex Thomas in 1914, he may have been born in the 1840s. The precise year of his death is also unknown, but might be around the end of the First World War. He was connected to the T'okw'a:?ath – Yo:lo?il?ath chiefly line of Tlihwito?a. Jessie Mack and Annie Watts were his daughters.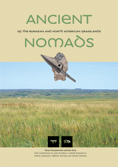 Ancient Nomads of the Eurasian and North American Grasslands
By Elena Ponomarenko and Ian Dyck
February 2009, ISBN 978-0-660-19771-5
168 pages, 152 illustrations (27 colour), 8.25" x 11.5", paperback
$34.95 (also in French)
Nomadic lifestyles dependent on herd animals developed independently on the grasslands of Eurasia and North America about 5,000 years ago. The landscapes that these peoples occupied were generally similar, but the basis of their nomadism was quite different. Eurasian steppe nomads relied on domestic sheep, goats, cattle and horses for their subsistence and on horses, cattle and, to a limited extent, camels for their travel; North American prairie nomads relied on wild bison for subsistence and on themselves and dogs for travel. In comparing the two lifestyles, this study shows that certain features, such as the use of circular portable dwellings, seasonal rhythms of movement and minimalist material cultures, were quite similar; but other features, such as the use of metals, access to urban civilizations, the nature and scale of warfare and overall population sizes, were very different. Yet, both kinds of nomadism dominated their respective landscapes until being supplanted by European or EuroAmerican expansionism between about 300 to 150 years ago.
Contributors: Anna Kochkina, Ludmila Kuznetsova, Dmitry Stashenkov, Mikhael Turetzky and Edward Dubman
A Brush with War: Military Art from Korea to Afghanistan
By Laura Brandon
February 2009, ISBN 978-0-660-19854-5
72 pages, 34 images (30 artwork, 4 photos), 8" x 8.5", paperback
$19.95 (also in French)
This full-colour guide for the exhibition A Brush with War: Military Art from Korea to Afghanistan provides a powerful visual record of the Canadian military experience from 1946 to 2008, and shows how Canadian artists are expanding the boundaries of Canadian military art in diverse and important directions.
Offering a glimpse into the richness and diversity of Canada's post-Second World War military art, the guide features 30 extraordinary paintings from the Canadian War Museum and other collections, most of which have never been seen before. An introduction and four historic overviews covering the period 1946–2008 provide thoughtful contexts for the detailed descriptions of each of the 64 historic and contemporary paintings by Canadian artists included in the touring exhibition. Highlights include famous historic paintings by Alex Colville, A. Y. Jackson and Pegi Nicol MacLeod, as well as contemporary military masterpieces by Gertrude Kearns, William MacDonnell, Allan Harding MacKay, and Scott Waters. The unique artworks featured in these pages bear witness not only to Canadian military history, but also to a longstanding and ongoing partnership between the Canadian War Museum and the Department of National Defence to create a visual record of that history as it happens.

The Thousand-Year Path: The Canada Hall at the Canadian Museum of Civilization
By Robert McGhee
February 2009, ISBN 978-1-100-10786-8
132 pages, 54 colour images, 9" x 9", paperback
$29.95 (also in French)
The path of European history in Canada begins ten centuries ago with the first ventures of Norsemen to the northeastern coasts. It winds westward across the continent and through time, following the rise of the cod fishery, the fur trade, the early farms of Acadia and those of the Loyalists who retreated to Canada after the American Revolution. In decades, the Prairies were transformed from buffalo country to wheat farms, and British Columbia from a fur trading colony to a complex society of many peoples. The scenes of the past glimpsed along this historical trail allow travellers to build their own sense of the country's history, and of the immense labour undertaken by our ancestors.
Robert McGhee is an archaeologist whose research has focused on the history of Arctic Canada. He has lived and worked in most regions of the country, and been fascinated by the diverse geography and history of local areas. McGhee has written over 100 articles and books, including both academic publications and those designed for a general audience. He is a Fellow of the Royal Society of Canada and of the Arctic Institute of North America, and has been awarded the Massey Medal by the Royal Canadian Geographical Society. Currently, he is Curator Emeritus with the Canadian Museum of Civilization.