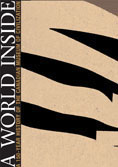 A World Inside: A 150-Year History of the Canadian Museum of Civilization
By Christy Vodden and Ian Dyck
February 2006, ISBN 978-0-660-19558-5
104 pages, 100 colour photographs, 6.75" x 9.5", paperback
$29.95 (also in French)
From the 1850s through decades of wars and worldwide economic depression, funding and staff shortages and a struggle for a permanent home, Canada's national museum has emerged as a renowned human history and cultural institution. This 150th anniversary history profiles the institution and the people who tirelessly championed it.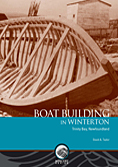 Boat Building in Winterton, Trinity Bay, Newfoundland
By David A. Taylor
April 2006, ISBN 978-0-660-19599-5
188 pages, 126 black and white photographs, 6.75" x 9.5", paperback
$29.95 (English only)
This revised edition of a classic work covers the history, design, construction and use of traditional, wooden inshore fishing boats created in the town of Winterton, Trinity Bay, Newfoundland. Lavishly illustrated, this book is a practical guide for boatbuilding enthusiasts and a valuable resource for scholars.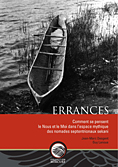 Errances : Comment se pensent le Nous et le Moi dans l'espace mythique des nomades septentrionaux sekani
By Jean-Marc Desgent and Guy Lanoue
June 2006, ISBN 978-0-660-97080-6
184 pages, 2 illustrations, 6.75" x 9.5", paperback
$45 (French only)
Errances transports you into the mythological universe of the Sekani, one of the last nomadic peoples. Their conception of the world is both fascinating and disconcerting. This original analysis, drawing equally from literature and anthropology, conveys a profound respect for this people. It will broaden and refresh your view of the Other.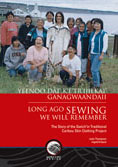 Yeenoo dài' k'è'tr'ijilkai' ganagwaandaii (Long Ago Sewing We Will Remember): The Story of the Gwich'in Traditional Caribou Skin Clothing Project
By Judy Thompson and Ingrid Kritsch
September 2006, ISBN 978-0-660-19508-7
76 pages, 45 illustrations (33 colour), 8.5" x 11.5", paperback
$15.95 (English only)
The reproduction of a nineteenth-century outfit marks a three-year collaboration between the Gwich'in and two Canadian museums to revive skills and knowledge employed in making traditional caribou-skin clothing. This book is an indispensable resource on Gwich'in culture and heritage, and on modern partnerships between museums and First Nations.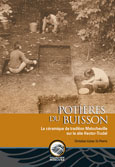 Potière du Buisson : La céramique de tradition Melocheville sur le site de Hector-Trudel
By Christian Gates St-Pierre
November 2006, ISBN 978-0-660-97161-2
319 pages, 66 photographs, 140 illustrations, 39 tables, 6.75" x 9.5", paperback
$45 (French only)
This study sheds new light on the late Middle Woodland period (500 – 1000 AD). It notes a stylistic and cultural stasis among Amerindian groups southwest of Montreal, and investigates the "Melocheville tradition", specific to Amerindian potters of the region. Finally, it contributes to the debate on the origins of the Saint Lawrence Iroquoians.