School Visits
The Museum of History and the Canadian Children's Museum offer a full range of services and educational resources.
Before You Arrive
For a preview of what our Museum has in store for you, visit the School Programs section of the website. You will find visit planning resources, educational resources and information related to our school programs and special exhibitions.
Bookings
Our Call Centre agents are available to take your booking and answer any of your questions, Monday to Friday from 8 a.m. to 5 p.m. EST. Please call 819-776-7014 or 1-800-555-5621, or email us at: information@historymuseum.ca.
Hours
The Museum is open every day from 9:30 a.m. to 5 p.m. throughout most of the school year, Thursdays until 8 p.m. For information on seasonal variations of our hours of operation, please call 819-776-7014 or 1-800-555-5621. Please note that the Museum will be closed from January 8 to 12, 2018 for annual maintenance.
Arrival
We recommend that your group arrives a minimum of 20 minutes before the scheduled start of your program. If you arrive at the Museum late, we cannot guarantee your reserved program or tour. In the event of inclement weather or other unexpected delays, please call en route to advise our Call Centre at 819-776-7014 or 1-800-555-5621. Once your group is at the Group Entrance, please have one of your representatives check in at the ticket desk. Students will receive a brief welcome and orientation to the Museum before proceeding with their visit or program.
Adult Supervision
Teachers and parent helpers have an important role to play. We rely on your support to keep the group together during your program or tour, to solve any discipline problems that may arise, and to participate in smaller group work.
Food
If your group is planning to stay for lunch, the Museum has a full-service café, where hot lunches, sandwiches, and snacks can be purchased. The Panorama Café offers group menus. Contact our Call Centre for more information on options and prices. If you wish to bring your own food, the Museum has a lunchroom at your disposal, next to the Group Entrance. Space is available on a first-come, first-served basis so we recommend that you reserve your places upon arrival.
Personal Belongings
Storage lockers located in the Group Entrance area will be assigned to your group, free of charge.
Accessibility
The Museum is fully accessible. Should your group have any special needs, please mention them when you make your booking.
Additional Information
Not sure what program best suits your needs? Please call 819-776-7014 or 1-800-555-5621 to request further details about a particular program.
School Access Program
The Canadian Museum of History is pleased to offer a School Access Program. Schools that meet the criteria for participation are eligible for assistance towards a school program at the Canadian Museum of History, or the Canadian War Museum. For further information, please contact our Call Centre at 819-776-7014 or 1-800-555-5621 or email us at information@historymuseum.ca.
The School Access Program is made possible by the generous support of donors to the Museum.
School Pre-visit Kit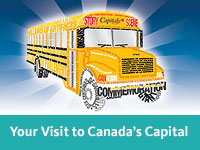 Your Visit to Canada's Capital, a curriculum-rich pre-visit resource, is exactly what you need to get your students excited about their upcoming trip!
Group Admission Fees
Group rates apply to groups of 15 or more.
Taxes not included – Valid until December 31, 2018

Group Admission Fees
Adult / Senior (18 Years +)
Student / Child (3 – 17)
1 Museum
(Museum of History or War Museum)
$10.50
$7.50
2 Museums
(Museum of History and War Museum)
$15
$11
1 Museum + 1 CINÉ+ Film
(Museum of History)
$15
$11
2 Museums + 1 CINÉ+ Film
(Museum of History and War Museum)
$19
$14
School Program
$1 per program, per student
Guided Tour
$3 per person
Activity Sheets
$1 per sheet