Food can connect us to past places and events. For me, the taste of summer savoury, an herb commonly used in Newfoundland cuisine, will always remind me of the years I spent living there. Likewise, the smell of tomato sauce boiling on the stove will forever bring to mind warm memories of family gatherings at my grandparents' home. Perhaps no foods interact with personal history more than holiday meals. While we all celebrate the holidays differently and in unique ways, the foods we make, share and consume during these times often stick with us — and we, in turn, imbue them with special symbolic meaning.
The holidays tend to revolve around traditions, but we are inclined to have a short-sighted view of how traditions work. Often, we view them as being moulded and solidified over the years, passed down through generations, and unchanged in their ritualization. For folklorists such as myself — researchers who study expressive behaviour and the culture of everyday life — traditions are not static and unchanging, but dynamic and evolving to suit the needs of those who practice them. Traditions live and change.
This tiramisu recipe is a good example of how a tradition can be learned through a peer group and altered to suit evolving contexts. Christmas lunch in my family always ends with something sweet, and tiramisu has been the star of the dessert table since my uncle began making it when I was a teen. The recipe has changed over the years and its ingredients depend on who makes it. My version would probably upset tiramisu purists, but it is a recipe that reflects my family's evolving tastes.
When I started making this tiramisu, I followed my uncle's recipe faithfully, carefully sourcing the savoiardi ladyfingers, the mascarpone, the Tia Maria liqueur. When I moved to St. John's, I continued to make tiramisu for special occasions, but I sometimes had trouble finding ladyfingers, so I started using pound cake instead. Many family members, including myself, now avoid dairy for health reasons, so replacing the cream part of the tiramisu became my next challenge. Conventionally made using mascarpone cheese, the tiramisu I now make uses chilled coconut cream whipped with vanilla extract and maple syrup. While our tiramisu may not seem "traditional" with its less conventional recipe, its function is still very traditional: as a staple at a family event that maintains a dialogue with our shared past and reflects our present.
---
Recipe and Instructions
Ingredients
2 cans of full-fat coconut milk (chilled in the fridge overnight to separate the water from the cream)
2–3 tablespoons of maple syrup, to taste
1 teaspoon of vanilla extract
1–2 tablespoons of cooled coffee (or coffee liqueur)
1 vanilla pound cake
4–6 cups of cooled coffee
Powdered cinnamon
Instructions
Coconut Cream
Chill the cans of coconut milk in the fridge for at least 8 hours.
Open the cans and scoop out the hardened coconut cream, saving the coconut water for another recipe.
Add the hardened coconut cream, maple syrup, vanilla extract and 1–2 tablespoon of coffee (or coffee liqueur) to a mixer and begin whipping.
Whip for about 2 minutes, until all ingredients are well mixed.
Cake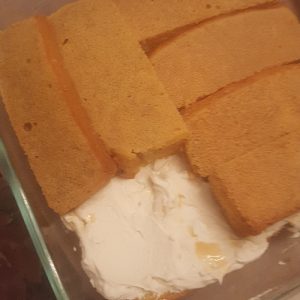 Cut the cake into thin rectangular pieces.
Take a piece of cake and dip it into the cooled coffee.
Place the piece of cake in a cake pan.
Continue until the bottom of the cake pan is covered.
Add a layer of coconut cream.
Continue dipping cake pieces into coffee and start a second cake layer on top of the coconut cream.
Once this cake layer is complete, add another layer of coconut cream.
Sprinkle powdered cinnamon on top.
Leave to chill and set in fridge for at least 6 hours.
Remove from fridge about 45 minutes before you eat to allow the coconut cream to soften a bit (it will be quite stiff right out of the fridge).
About Laura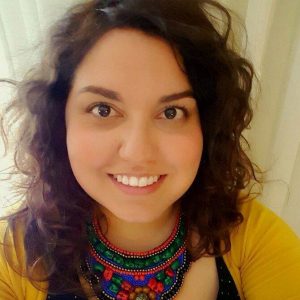 Laura Sanchini is the Museum's Curator of Craft, Design and Popular Culture. She is a specialist in the study of vernacular material culture (the things people make) and oral history (the stories people tell). Growing up in a big immigrant family in Montréal, Laura was surrounded by her family's culinary traditions, which sparked her interest in the study of food culture.
Laura is a weekly volunteer at a local farm sanctuary, where she helps care for the cows, sheep, goats, horses, pigs and birds that call the sanctuary home. Her favourite is a sheep named Rose (but don't tell the other animals). In her spare time, Laura is a dilettante musician, a novice rug hooker and a passionate painter.
Further Reading
Morrissette, Maude. 2008. Les pratiques alimentaires du réveillon de Noël contemporain au Bas Saint-Laurent : la cohabitation entre tradition et modernité. M.A. Thesis. Université Laval.
Sanchini, Laura. 2013. "Pizze Fritte è Baccala: Christmas Foods, Past and Present." In Italian Canadians at Table: A Narrative Feast in Five Courses. Montréal: Guernica.
Sutton, David. 2001. Remembrance of Repasts: An Anthropology of Food and Memory. New York: Berg.
Tye, Diane. 2010. Baking as Biography: A Life Story in Recipes. Montréal: McGill-Queen's UP.
Weiss, Allan. 1997. Taste Nostalgia. New York: Lusitania.