Two-Ingredient Gnocchi With Fresh Summer Sauce
Enjoy a little taste of Italian history with this simple two-ingredient gnocchi and fresh summer sauce from Laura Sanchini, Curator of Craft, Design and Popular Culture at the Canadian Museum of History.
When you think of Italian food, what comes to mind? Pasta, cheese, wine and meats? While these foods are all part of Italian cuisine, the foods we associate with Italian culture in North America are often linked to the way Italian communities outside of Italy prepare and consume meals.
Before major waves of Italian immigration to Canada in 1900–1914 and 1950–1970, Italian society (like many other societies) was divided by social class. And social class often dictated what you ate.
For many, especially those in the more rural south, this meant a diet based on legumes, dense breads, soups and vegetables. Meat was eaten sparingly, and creative cooking teased out all the flavours that simple ingredients could offer. One example of this is pasta con briciole: pasta topped with breadcrumbs, tossed in garlic and sautéed in olive oil to mimic the "mouthfeel" of Parmesan.
Italians who chose to immigrate to Canada and the United States in earlier times found themselves in a very different food situation than back home. In North America, they could eat foods they were rarely able to enjoy in Italy. Foods such as pasta, cheese, tomato sauce and meat suddenly became staples.
Following their incorporation into everyday life, many of these foods took on new symbolic meaning. Eating a diet rich in tomato sauce, cheese and meat became symbols of Italian identity, membership in the Italian immigrant community, and financial success in a new country.
Want to try making one of my favourite Italian dishes? Read the recipe and instructions below to make a simple two-ingredient gnocchi with fresh summer sauce!
---
Two-Ingredient Gnocchi with Fresh Summer Sauce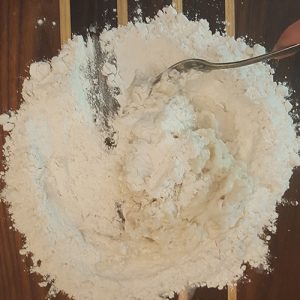 There is a moment every summer — one I look forward to each year — when I pick the first tomatoes in my backyard garden and make what my family affectionately calls a "summer sauce."
Unlike the tomato sauces we make during the rest of the year, which usually rely on home-canned tomatoes or bottled tomato passata (uncooked tomato puree), summer sauce celebrates fresh tomatoes, picked at their ripest and bursting with flavour. Contrary to silky smooth marinara, summer sauce is chunkier and works best with short types of pasta. I like to pair it with my family's favourite two-ingredient homemade gnocchi.
You may be familiar with Italian gnocchi: a soft, dumpling-like pasta that is usually made with potatoes — sometimes with ricotta and spinach added. This is not that kind of gnocchi.
Generally understood to be a southern Italian variant, this recipe makes dense, chewy, and filling gnocchi, perfect for our fresh summer sauce. Unlike many gnocchi recipes with a multitude of ingredients, this recipe requires only flour and hot water.
To round out this delicious meal, add a salad of fresh, slightly bitter greens such as arugula and cicoria (dandelion greens), tossed in a simple dressing of olive oil and wine vinegar.
---
Two-Ingredient Gnocchi and Summer Sauce
Ingredients
Gnocchi
500 ml (2 cups) flour
250 ml (1 cup) boiled water (slightly cooled)
Summer Sauce
4 medium San Marzano plum tomatoes (you can use other varieties)
1 onion
2 cloves garlic
15 ml (1 tbsp.) olive or grapeseed oil
5 ml (1 tsp.) dried basil (I use dried herbs, but feel free to use fresh ones)
5 ml (1 tsp.) dried parsley
2.5 ml (1/2 tsp.) oregano (I like to use summer savoury instead of oregano — a holdover from my years living in Newfoundland)
Instructions
Gnocchi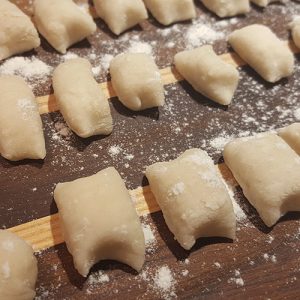 Boil water and allow to cool slightly.
Make a ring of flour in a large bowl.
Slowly drizzle in hot water, while whisking it into the flour with a fork (be careful not to breach the sides of the flour ring!).
Continue drizzling slowly until all the water has been added and combined with the flour.
Knead the dough on a lightly floured board, until it is soft and elastic. At first, the dough will feel dry and crumbly, but it will eventually become smooth and springy.
Cut the dough into four equal pieces and roll each out into a long thin log, about a 1/2 inch (1.3 cm) thick.
Cut the logs into 1/2-inch (1.3 cm) sections.
Flour a cutting board and place all the pieces on the board to dry for about 30 minutes, while you make the sauce.
Summer Sauce
In a large pan over medium heat, stir chopped onion into olive oil.
Add chopped garlic and stir.
Cut up tomatoes and add to the pan.
Add basil, parsley and oregano.
Add salt and pepper to taste.
The tomatoes will release their juices as they cook, and the sauce will thicken.
Cooking Instructions
Fill a large pot with water, add salt and 1 tbsp. of oil. Bring to a rolling boil.
Delicately drop your gnocchi into the pot. They will sink.
Stir occasionally to keep the gnocchi from sticking to the bottom of the pot.
When the gnocchi rise to the surface of the pot, they are done.
Remove the gnocchi with a slotted spoon or use a colander.
Add the gnocchi to the sauce and coat evenly.
Buon appetito!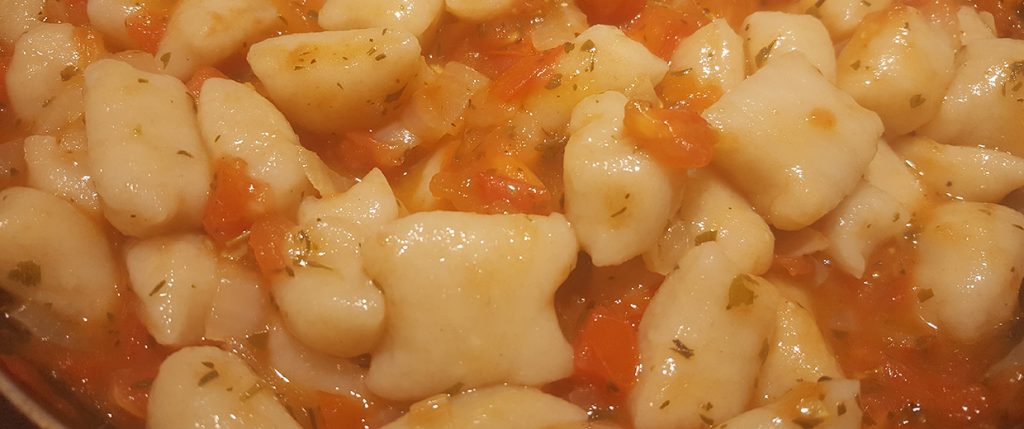 About Laura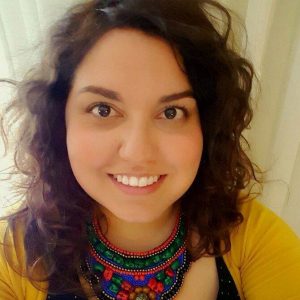 Laura Sanchini is the Museum's Curator of Craft, Design and Popular Culture. She is a specialist in the study of vernacular material culture (the things people make) and oral history (the stories people tell). Growing up in a big immigrant family in Montréal, Laura was surrounded by her family's culinary traditions, which sparked her interest in the study of food culture.
Laura is a weekly volunteer at a local farm sanctuary, where she helps care for the cows, sheep, goats, horses, pigs and birds that call the sanctuary home. Her favourite is a sheep named Rose (but don't tell the other animals). In her spare time, Laura is a dilettante musician, a novice rug hooker and a passionate painter.
Further Reading
Del Giudice, Luisa. 2001. "'Wine Makes Good Blood': Wine Culture Among Toronto Italians." Ethnologies 23.1:1-27.
Diner, Hasia. 2001. Hungering for America: Italian, Irish and Jewish Foodways in the Age of Migration. Cambridge: Harvard University Press.
Ramirez, Bruno. 1984. Les premiers Italiens de Montréal : L'origine de la Petite Italie du Québec. Montréal: Boréal Express.
Sanchini, Laura. 2014. "'I've Been to Italy and They Don't Do This': Tradition, Gendered Space and Immigrant Identity in Montreal Italian Foodways." DIGEST: A Journal of Foodways and Culture, Vol. 3:2.
http://digest.champlain.edu/vol3_issue2/article3_2_2.html
Shortridge, Barbara and James Shortridge. 1998. The Taste of American Place: A Reader on Regional and Ethnic Foodways. New York: Rowman and Littlefield.