The Canadian Museum of History in partnership with Smith & Barber – Sculpture Atelier Inc., is proud to present the Canadian Stone Carving Festival.
On July 10, 11 and 12, stone carvers from Canada, the U.S. and Europe will gather at the Canadian Museum of History to display their skills and creativity. Using hand tools, participants will have 16 hours over the span of 2 days to complete their pieces.

The public is invited to enjoy the sights and sounds of this traditional work and to engage with the carvers. On the afternoon of July 12 (2 p.m. to 5 p.m.), all pieces will be auctioned to the public and the proceeds will be donated to local charities. The Canadian Stone Carving Festival is not a competition; the event was created to promote craft fellowship among carvers and to build public awareness about the trade.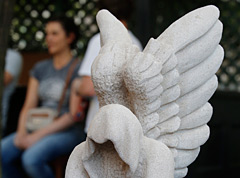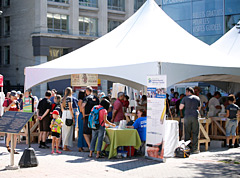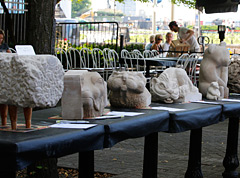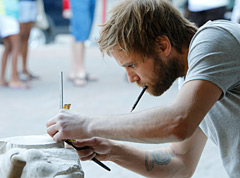 The craft of stonemasonry has played a pivotal role in shaping our capital. From its humble beginning as the city of Bytown, Ottawa has been shaped, sculpted and constructed by the hands of stonemasons and carvers. Landmarks such as the Rideau Canal and the Parliament Buildings came to life with stone as the principal building material.

Today, with the impressive West Block Rehabilitation Project, the city has once again attracted highly skilled stonemasons and carvers, making Ottawa the ideal location for this year's festival. The festival's organizer, Smith & Barber – Sculpture Atelier Inc., is heavily involved in this magnificent restoration project and aims to make this year's carving festival the best one yet!
Canadian Stone Carving Festival: http://canadianstonecarvingfestival.com/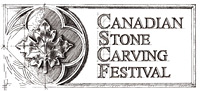 Biographies
Patrick Imai
Patrick Imai
Patrick is an award-winning stone carver best known for his graceful and often playful works personifying bears. Evoking human emotions and movement, the carvings explore the relationship between humans, families and nature.
Patrick's sculptures are in private collections in Canada, the United States, Europe and the United Kingdom, and have been exhibited in Ottawa venues such as the Canadian Museum of Nature, the Shenkman Arts Centre and Saint Brigid's Centre for the Arts. He was the inaugural recipient, in 2015, of the Arteast Award of Excellence, presented by the Eastern Ontario non-profit visual arts organization.
Born in Toronto, Patrick developed a strong connection to nature and wildlife — and a fascination with bears — while hiking, camping and canoeing in the Canadian wilderness. Largely self-taught, he has been carving for more than 40 years.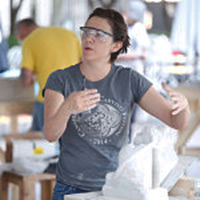 Sophie Pellefigue
Sophie Pellefigue
Sophie was born in Toulouse, France. In 2001, she entered the École des Beaux-Arts in Perpignan, where she obtained a diploma in plastic arts. She then received training in stone carving at the Centre de formation d'apprentis en taille de pierre in Charente. She completed her training in 2010 having earned two diplomas. During her apprenticeship, Sophie worked for several businesses, where she gained skills in ancient building renovation, stone carving, engraving and sculpture.
Sophie then went to Paris to master her sculpturing skills. There, she received additional training in sculpture and molding, allowing her to complete internships in firms specializing in stone sculpture. After spending a year refining her skills, she worked at several firms as a sculptor and restorer. Sophie has worked in monument restoration for the Louvre, the Orléans cathedral, the École de sciences polytechniques in Reims and various other classified buildings in the Paris region. She has also worked for various private clients.
Paris abounds with monuments, each more fabulous than the last, but daily life in the city can be stressful. When Sophie was invited to work on restoring and conserving Canada's Parliament Buildings in Ottawa, she eagerly accepted the new challenge.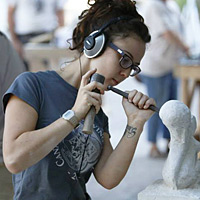 Amy Ward
Amy Ward
Amy is a traditional stonemason and conservator from Manchester, England. She has worked on historically important buildings in both Canada and the United Kingdom, including the Parliament Buildings in Ottawa, the Saskatchewan Legislative Building in Regina, York Minster Cathedral in York, England and the Edwin Lutyens-designed Marshcourt, one of England's finest country houses.
Amy was drawn to a career in masonry and conservation by her love of history, art and architecture, and by the variety and challenges that come with conserving heritage buildings. She holds a Foundation Degree in Applied Architectural Stonework & Conservation from Weymouth College, UK and an NVQ (National Vocational Qualifications) Level 3 in Heritage Masonry from York University, UK.
Phil White
Phil White
Phil is an artist and sculptor employed full-time as the Dominion Sculptor of Canada. He oversees the maintenance of the architectural sculpture on Parliament Hill (and other government buildings) and creates new works to commemorate Canada's history, people, events and character.
One of his more recent and ambitious projects involved the design, creation and installation of six stone alters to hold the Books of Remembrance in the Peace Tower's Memorial Chamber. The project took two years and required the efforts of 75 people. His other notable creations include a bust of Her Majesty Queen Elizabeth II, now displayed in the Library of Parliament, and a carving of the Senate Mace done in basswood and finished in gold leaf.
Before his appointment as Dominion Sculptor of Canada in 2006, Phil worked at the Canadian War Museum and the Canadian Museum of History as an Exhibit Artist, creating sculptures and decorative arts for exhibitions and presentations. He was introduced to carving by his grandfather, a master mason and woodcarver, and studied art conservation techniques at Ontario's Sir Sandford Fleming College.