FULL TOUR
Conceiving a National Museum - A WORLD-CLASS MUSEUM
The building to house the museum has been recognized, at home and abroad, as a world-class structure. Bigger and more complex than originally planned, it is a building unlike any other. The structure is 'geoform': its features are drawn directly from the landscape and the forces of nature which shaped the landscape. By contrast, it embodies many state-of-the-art technologies: from the evolution of its form within the "womb" of a computer's memory, through its nourishment and protection by computer-controlled environmental and security systems, to its nervous system made up of fibre-optic cables.
The building was designed by architect Douglas J. Cardinal. His architectural style is characterized by sinuous, flowing lines. The naturalistic qualities of his creations make them at once provocative and restful.




© Canadian Museum of Civilization, D2004-18588, CD2004-1377
The only valid response CMC's staff could give to a world-class structure, and to the substantial investment of public funds in the project, was to "sculpt" a prototype for an indoor human history museum of a quality that makes it a source of national pride. Much effort was devoted to gathering information on the best new developments in museums and related institutions worldwide. CMC's own experiences and practices also proved an invaluable foundation, but they were not unquestioningly perpetuated. Curatorial operations, exhibitions, interpretive and educational programmes were re-evaluated and, wherever desirable, reshaped as resources allowed.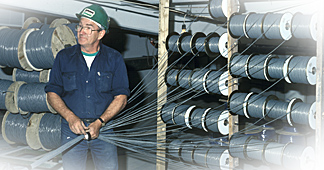 A major museum such as the CMC must be planned to serve not only today's society, but also tomorrow's. Therefore, the architectural shell contains a complex web of fibre-optic cables, all linked to a high-tech network centre, thus enabling information of all types to be channelled from museum data banks to knowledge seekers both inside and outside the museum.
© Canadian Museum of Civilization, S2004-1239, CD2004-1376
The CMC can perform on a more sophisticated level and at a greater capacity than was expected when the project was begun. A fundamental tenet guiding the architects of museum function was that their product should be user-driven not producer-driven. The main aim for the exhibitions has been to give the artifacts context. This meant re-creating the cultural settings appropriate to the displayed objects, supporting them by dynamic programmes that have cultural relevance, and enhancing the experience by interactivity that draws visitors into a more intimate and meaningful relationship with the presentations.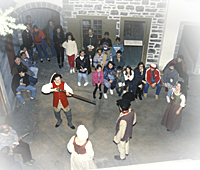 The Grand Hall (left) provides a striking setting for large-scale cultural performances, while the Canada Hall (right) incorporates several spaces suitable for more intimate presentations by the Museum's theatre company, Dramamuse.
© Canadian Museum of Civilization, D2004-18603 (left),
S94-11986 (right), CD2004-1377