Frederick Wilkerson Waugh
(1872 – 1924)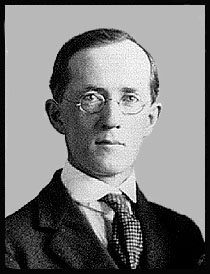 Frederick Wilkerson Waugh
Ethnologist, 1911 – 1924,
Anthropology Division of the Geological Survey of Canada
(now part of the Canadian Museum of Civilization)

© MCC/CMC No. 46797

Frederick Wilkerson Waugh was born on April 14, 1872, in Langford, Ontario not far from Grand River and the Six Nations Iroquois Reservation. He had a strong interest in technology, linguistics, and ethnology, and in his spare time conducted ethnological research on the Six Nations Reservation and on Manitoulin Island. Initially, he combined his research with his work as editor of The Furniture Journal, in Toronto. In August 1911 he started corresponding with Edward Sapir, Head of the Anthropology Division of the Geological Survey of Canada. Sapir took an interest in Waugh's research activities and, in December 1911, offered him a contract a to study Iroquoian technology. In mid-July 1913, Waugh was formally hired to work in the Anthropology Division as a preparator for the Ethnology Section. In December 1919, he was promoted to Assistant Ethnologist and then to Associate Ethnologist around 1923, a position he held until his mysterious disappearance at the end of September 1924.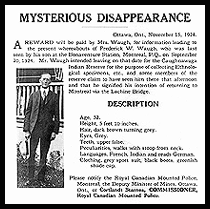 MCC/CMC Archival document,
correspondence of Edward Sapir,
"Waugh, 1911 – 1925"



During his career in the Anthropology Division, Frederick Waugh conducted much research among various native groups in eastern Canada. From 1911 to 1915, and up to 1918, Waugh devoted his time to working with the Iroquois — mainly from the Six Nations, but also those from Caughnawaga. In 1916, 1919 and 1920, he met the Ojibway from Long Lake, Nipigon, Manitoulin Island and Lone Lake (Lac Seul). Finally, during the period from 1921 to 1924, Waugh became interested in the Naskapi, the Inuit of the Labrador coast, as well as the Montagnais from the North Shore of the St.Lawrence River. Even though Waugh never worked in western Canada, he seized the opportunity of the British Columbia Native Chiefs' visit in May 1916 to study string games of the First Peoples in Lillooet [stl'atl'emx], Kootenay [Ktunaxa], Okanagan and Thompson [Nlaka'pamux].

Waugh's research deals with material culture (technology), food, medicine, rituals, mythology and ethnobotany. Frederick Waugh did not publish much of his findings but left many field and research notes, manuscripts, photographs and portions of his work correspondence. This correspondence is described in the inventory presented here: the documents are sorted in alphabetical order and cover mainly the years from 1912 to 1920. One letter is available from 1909 and four others from between 1921 to 1924.

The finding aid is similar to Sapir's finding aid published in Edward Sapir's Correspondence: an Alphabetical and Chronological Inventory, 1910-1925, (CMC Mercury Series, Ethnology Series no. 97, 1984).
---
Source material compiled by: Benoit Thériault, Information Management Services
Web pages created by: Sara Lytle; Chris Kirby