Through Darkening Spectacles.  Memoirs of Diamond Jenness
By Diamond Jenness and Stuart E. Jenness
November 2008, ISBN 978-0-660-19802-6
436 pages, 61 illustrations, 14 maps, 6.75" X 9.5", paperback
$39.95 (English only)
Diamond Jenness was one of the most outstanding Canadian anthropologists of the early twentieth century. Now, details about the private life of this dedicated scholar are revealed in his own words augmented with contributions by his son, Stuart.
In 1926 New Zealander Diamond Jenness was appointed Chief of Anthropology at the National Museum of Canada. For the next twenty-two years he sought to expand the Museum's exhibits, anthropological collections, and reputation, and to improve the recognition, understanding, and living conditions of Canada's Native peoples. Almost single-handedly he produced basic publications on Canada's two Aboriginal peoples: five early Canadian Arctic Expedition volumes on the Inuit in Canada's Arctic, and The Indians of Canada. His People of the Twilight has been described as "the best single book on the traditional Canadian Inuit." Now, revealed in his own words, augmented with biographical and anecdotal contributions by his son Stuart, are details about the private life and activities of this dedicated scholar, one of Canada's greatest early scientists, Diamond Jenness.
Diamond Jenness (MA, New Zealand, MA, Oxford) spent three years in the Arctic, met his life partner in Ottawa, and served overseas in the First World War. Married upon his return to Canada, he soon established his reputation among anthropologists by his remarkable recognition of the "Dorset Culture" in the eastern Canadian Arctic and the "Old Bering Sea Culture" in northwestern Alaska. During the Second World War he was seconded to the RCAF for intelligence work. In his retirement years he traveled, studied, and wrote in Spain, Italy, Cyprus, Mexico, and Martinique.
Stuart E. Jenness (PhD, Yale) undertook geological studies in eastern Newfoundland during the 1950s, then served as a scientific editor for the Geological Survey of Canada and the National Research Council of Canada. Retired since 1985, he edited Arctic Odyssey: The 1913–1916 Arctic Diary of Diamond Jenness, and wrote the prize-winning book The Making of an Explorer: George Hubert Wilkins and the Canadian Arctic Expedition 1913–1916.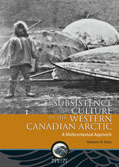 Subsistence and Culture in the Western Canadian Arctic.  A Multicontextual Approach
By Matthew W. Betts
September 2008, ISBN 978-0-660-19803-3
312 pages, 38 figures, 35 tables, 6.75" x 9.5", paperback
$34.95 (English only)
The Siglit, or Mackenzie Inuit, the ancestors of the modern Inuvialuit, were, at the time of Euroamerican contact, the most populous and complex Inuit society in the Canadian Arctic. Through innovative analysis of animal bones recovered from their ancient archaeological sites, this comprehensive study documents the complex relationships between the Mackenzie Inuit and their food animals, and tracks these connections over some 800 years, from their earliest occupations to the arrival of Europeans in the 19th century.
Methodological in focus, this study examines the way in which archaeologists integrate animal remains into their analyses and proposes a systematic methodology for evaluating faunal data against other archaeological information. This volume chronicles the relationship between developing Siglit economic strategies and shifts in technology, settlement strategies, demography, and climate, exposing in the process the primary link between Siglit culture and their subsistence practices.
Matthew Betts is Curator of Atlantic Provinces Archaeology at the Canadian Museum of Civilization. He received his PhD from the University of Toronto and has published on a broad range of topics including dating methods, historical archaeology, archaeological method and theory, and hunter-gatherer subsistence. His current research focuses on maritime hunter-gatherers and their complex economic and social relationships with the animals they exploit.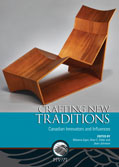 Crafting New Traditions. Canadian Innovators and Influences
Edited by Melanie Egan, Alan C. Elder and Jean Johnson
June 2008, ISBN 978-0-660-19784-5
136 pages, 30 illustrations, 17 colour images, 6.75" X 9.5", paperback
$34.95 (English only)
Crafting New Traditions: Canadian Innovators and Influences brings together the work of 11 historians and craftspeople to address the two questions of "who has influenced the recent history of Canadian studio craft?" and "who will be considered as the 'pioneers' of Canadian craft in the future?".
Planned in conjunction with a symposium of the same name at Harbourfront Centre, this publication provides examinations of those innovators who have influenced five craft fields: ceramics, glass, metal, textiles, and wood. Crafting New Traditions also includes five essays that look at recent leading-edge activity in the crafts.
Canadian crafts are part of our material culture; and it is through our material culture that we can understand the world around us and the worlds of the past. This publication, planned in collaboration with a symposium at Harbourfront Centre in February 2008, recognizes the accomplishments of Canadian craftspeople.
Melanie Egan is Head of the Craft Department at Harbourfront Centre, Toronto, Ontario. Alan C. Elder is the Curator of Canadian Craft and Design at the Canadian Museum of Civilization in Gatineau, Quebec. Jean Johnson, C.M. is Manager of Special Craft Initiatives at Harbourfront Centre.
Contributors: Beth Alber, Sandra Alfoldy, Anne Barros, Melanie Egan, Alan C. Elder, Sandra Flood, Rachel Gotlieb, Susan Jefferies, Jean Johnson, Patty Johnson, Julia Krueger, Dorie Millerson, and Carolyn Prowse-Fainmel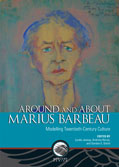 Around and About Marius Barbeau: Modelling Twentieth-Century Culture
Edited by Gordon E. Smith, Lynda Jessup, and Andrew Nurse
February 2008, ISBN 978-0-660-19775-3
384 pages, 80 illustrations, 6.75" x 9.5", paperback
$39.95 (English only)
Marius Barbeau (1883–1969) played a vital role in shaping Canadian culture in the twentieth century. Around and About Marius Barbeau: Modelling Twentieth-Century Culture extends discussion about Barbeau beyond the life and work framework by providing critical and interpretive approaches to the different aspects of Barbeau. Rooted in the premise that his cultural work—in anthropology, fine arts, music, film, folklore studies, fiction, historiography—cannot be read uni-dimensionally, this book advances the idea that, by merging disciplinary perspectives about Barbeau, evaluations and understandings of the situation around Barbeau can be deepened. The sixteen articles and over eighty illustrations that comprise this book bear this idea out, suggesting that Barbeau's cultural work needs to be considered from a variety of different perspectives, each of which carries with it complex and competing dynamics, as well as a critical and subject context. Together, they present alternative stances from which Barbeau's historical situation and the implications of his work can be reflected upon today.
Lynda Jessup teaches in the Department of Art at Queen's University in Kingston, Ontario. Andrew Nurse is Director of the Centre for Canadian Studies at Mount Allison University in Sackville, New Brunswick. Gordon E. Smith is professor of ethnomusicology and Canadian music at Queen's University in Kingston, Ontario.
Contributors: Marielle Aylen, Sandra Dyck, François-Marc Gagnon, John Haines, Lynda Jessup, Elaine Keillor, Marie-Thérèse Lefebvre, Loren Lerner, Yannick Meunier, Andrew Nurse, Allison Nyce, Frances M. Slaney, Derek G. Smith, Gordon E. Smith, Nicola Spasoff, Jean-Nicolas De Surmont, and Benoît Thériault