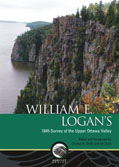 William E. Logan's 1845 Survey of the Upper Ottawa Valley
Edited by Charles Smith and Ian Dyck
January 2007, ISBN 978-0-660-19662-6
256 pages, 26 illustrations, 14 maps, 26 photographs, 6.75" x 9.5", paperback
$29.95 (English only)
The pioneering geology of Sir William Edmond Logan laid the groundwork for the Geological Survey of Canada, the Canadian Museum of Nature, the Canadian Museum of Civilization and the Canada Museum of Science and Technology. This volume presents Logan's 1845 field journal, written on a geological expedition up the Ottawa River from Bytown to Lake Timiskaming. The journal is sprinkled with fascinating stories of daily life during the expedition, supplemented with Logan's sketches of the landscape and geological features. An introductory essay provides insight into Logan's records, the survey instruments he used, and the significance of his 1845 fieldwork.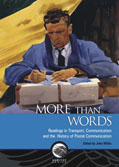 More Than Words: Readings in Transport, Communication and the History of Postal Communication
Edited by John Willis
March 2007, ISBN 978-0-660-19696-1
382 pages, 57 illustrations, 19 maps, 37 photographs, 6.75" x 9.5", paperback
$39.95 (English only)
More Than Words features the work of more than twenty scholars from Canada and abroad on topics related to postal communications. Drawing on recent trends in social and cultural history, the authors address the history and importance of the post from such perspectives as infrastructure, technology, nation-building and interpersonal communications. Demonstrating the power of the written word, these new essays examine the post's essential role in building contacts, exchanging emotions, and forging a culture of communication — in which much more than words are exchanged.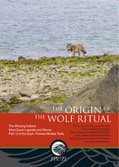 The Whaling Indians: West Coast Legends and Stories – The Origin of the Wolf Ritual. Part 12 of the Sapir-Thomas Nootka Texts
Told by Sa:ya:ch'apis and To:tisim
Edited by Eugene Arima, Terry Klokeid, and Katherine Robinson
Prepared by Edward Sapir, Morris Swadesh, Alexander Thomas, John Thomas, and Frank Williams
June 2007, ISBN 978-0-660-19705-0
286 pages, 9 photographs, 6 maps, 6.75" x 9.5", paperback
$45.00 (English only)
This last segment of the Sapir-Thomas Nootka texts includes three first-hand accounts of the Tlkwa:na, or Wolf Ritual, principal ceremonial of the Nuu-chah-nulth First Nations of the West Coast of Vancouver Island. The ritual, which takes several days to enact, is described in detail, from the howling of the "Wolves" in human form, to the abduction of children to their forest lair and the return of these initiates to perform newly learned dances. Also included are Sapir's field record of a Tlkwa:na of 1910; his correspondence with his chief interpreters Alex Thomas and Frank Williams; and autobiographical stories by Alex Thomas.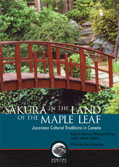 Sakura in the Land of the Maple Leaf: Japanese Cultural Traditions in Canada
By Carlo Caldarola, Mitsuru Shimpo and K. Victor Ujimoto
Edited by Ban Seng Hoe
June 2007, ISBN 978-0-660-19703-6
216 pages, 46 photographs, 6.75" x 9.5", paperback
$39.95 (English only)
Based on research conducted in the mid-1970s, this book profiles the regional development of Japanese cultural traditions in British Columbia, southern Alberta and metropolitan Toronto. The authors examine how long held Japanese beliefs and practices responded to the social upheaval caused by diaspora, internment, prejudice and cultural assimilation and provide us with a snapshot of Japanese culture in post-war Canada, 100 years after the arrival of the first Japanese immigrants. Firsthand accounts, archival photographs and evocative descriptions round out this fascinating look at a culture in transition which still retains its essential identity and ultimately influences the culture around it.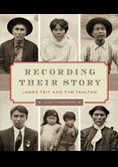 Recording Their Story: James Teit and the Tahltan
By Judy Thompson
August 2007, ISBN 978-1-55365-232-8
222 pages, 57 colour images, 3 maps, 1.4 kg, 6.75" x 9.5", cloth
$55.00 (English only)
Copublisher:  Douglas & McIntyre
Recording Their Story describes the life and work of groundbreaking ethnologist James Teit and the key collections of Tahltan materials he gathered in the early 1900s, including stories and songs.
Teit's connection to the Canadian Museum of Civilization and his ethnographic work among the Tahltan of northern British Columbia began in 1911. In two field seasons (1912 and 1915), with the participation of many Tahltan, Teit assembled a large and important collection of artifacts, photographs, song recordings and myths. Part biography and part catalogue of this collection, Recording Their Story reveals how the various threads of Teit's life and work came together in his final major ethnographic study.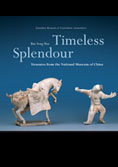 Timeless Splendour: Treasures from the National Museum of China
By Ban Seng Hoe
October 2007, ISBN 978-0-660-19704-3
32 pages, 28 colour photographs, 6.75" x 9.5", paperback
$10.95 (also in French)
The exhibition, Treasures from China, produced by the Canadian Museum of Civilization in partnership with the National Museum of China, offers a fascinating glimpse into the rich cultural heritage of one of the world's oldest living civilizations. This souvenir book features many of the rarest and most beautiful objects of the exhibition. Chosen for their historical, social and cultural importance, these timeless treasures bear witness to China's social evolution, artistic innovation, and international stature.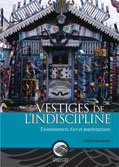 Vestiges de l'indiscipline : environnements d'art et anarchitectures
By Valérie Rousseau
December 2007, ISBN 978-0-660-97232-9
208 pages, 106 colour photographs, 6.75" x 9.5", paperback
$34.95 (French only)
They are known by a variety of labels—popular art, naïve art, primitive art, folk art, outsider art or untrained art—and appear in the form of abundant sculpture gardens, extravagantly ornamented houses and visionary installations. The artists or artisans who create these environments work alone, outside professional artistic circles, driven by a singular, over-riding need to create and to project their personal universe onto the world around them. They leave an original and vibrant signature on the visual landscape, a timeless landmark that nourishes our personal and collective imaginations. This book invites you to enter their worlds.