NEXT WEEK at the Canadian Museum of Civilization June 7 to 13, 2010
June 2, 2010
NEXT WEEK
at the Canadian Museum of Civilization
June 7 to 13, 2010
Activities are free with Museum admission unless otherwise indicated.
No Power Greater
by Lib Spry
Thursday June 10
5:30 p.m. (French) and 7 p.m. (English)
Saturday June 12
2 p.m. (French) and 3:30 p.m. (English)
Canada Hall – The Union Hall "Labour Temple"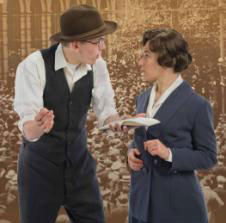 Dramamuse, the Museum's theatre company, invites you to a play that will plunge you into the middle of the Winnipeg General Strike of 1919 — the largest strike in Canadian history. Meet the strike leader, Mrs. Helen Armstrong, and three young men with very different opinions.

Media Information:
Chief, Media Relations
Canadian Museum of Civilization
Tel.: 819 776-7167
Media Relations Officer
Canadian Museum of Civilization
Tel.: 819 776-7169
Fax: 819 776-7187