Posted on: 14/06/2010
NEXT WEEK
at the Canadian Museum of Civilization
June 14 to 20, 2010
Activities are free with Museum admission unless otherwise indicated.

Chamber Music of the Fur Trade Era
Thursday, June 17
Noon
Gallery E
Enjoy period music performed by some of Canada's most talented up-and-coming classical musicians. Presented in collaboration with the National Arts Centre Young Artists Program.
No Power Greater
by Lib Spry
Thursday, June 17
5:30 p.m. (French) and 7 p.m. (English)
Saturday, June 19
2 p.m. (French) and 3:30 p.m. (English)
Canada Hall – The Union Hall "Labour Temple"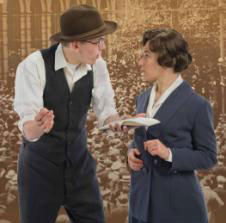 Dramamuse, the Museum's theatre company, invites you to a play that will plunge you into the middle of the Winnipeg General Strike of 1919 — the largest strike in Canadian history. Meet the strike leader, Mrs. Helen Armstrong, and three young men with very different opinions.
World Juggling Day
Saturday, June 19
11 a.m. to 2 p.m.
Waterfall Court
Celebrate World Juggling Day by watching jugglers at work, then learn to juggle different objects yourself!

EQUUSKETCH
Sunday, June 20 10 a.m. to 2 p.m.Grand Hall
Horses have inspired artists for centuries. Try sketching a horse for yourself, and learn how the skeleton and underlying muscles affect the animal's outward appearance.
Saddle Up!
Sunday, June 20
11 a.m. to 3 p.m.
Waterfall Court
Grooming is an important part of horse care and is essential to a horse's health and comfort. Come and learn about proper horse-grooming techniques and tack, as we help Mr. Maple look his best!
Canadian Children's Museum
(Located in the Canadian Museum of Civilization)
Dad and Me
June 19 and 20
10:30 a.m. to noon and 1 to 4 p.m.
Create some unique artwork to celebrate your Dad in our drop-in printmaking and wearable-sculpture workshops.
Media Information:

Chief, Media Relations
Canadian Museum of Civilization
Tel.: 819 776-7167

Media Relations Officer
Canadian Museum of Civilization
Tel.: 819 776-7169

Fax: 819 776-7187