Meet the Research Team
Contemporary Canada and the World
First Peoples and Early Canada
Repatriation and Indigenous Relations
The RBC Aboriginal Training Program in Museum Practices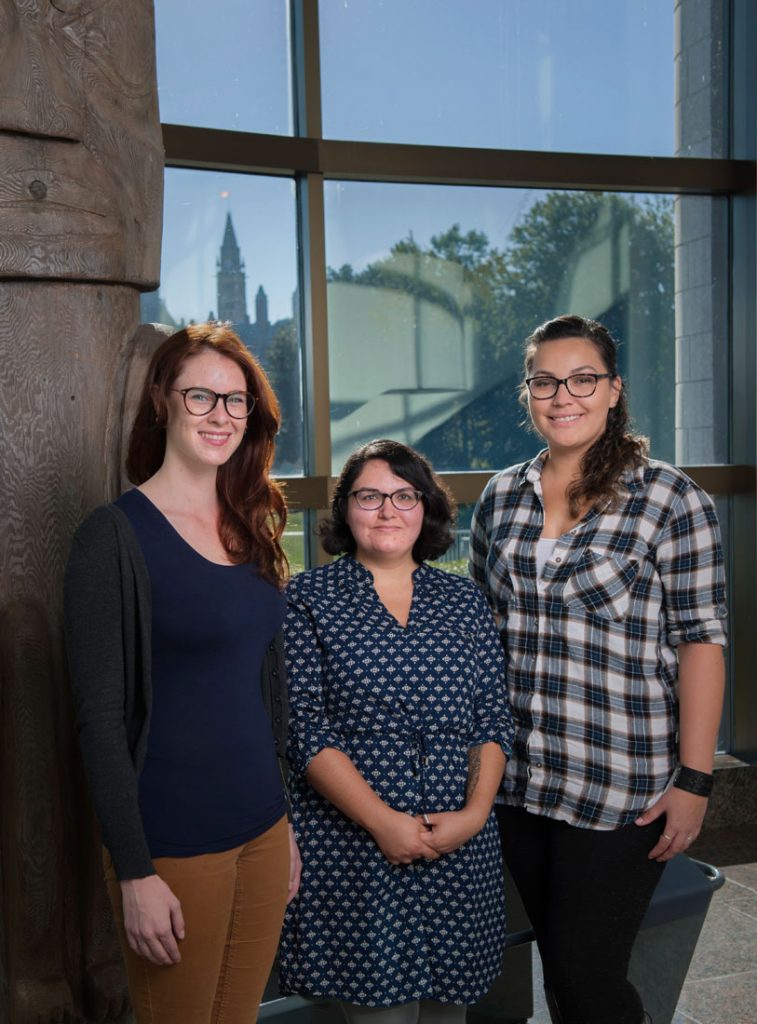 The RBC Aboriginal Training Program in Museum Practices offers professional and technical training for First Nations, Métis and Inuit participants. It is the only program of its kind in Canada. The goal of the Program is to develop ways for Aboriginal Nations across Canada to represent their own history and culture in concert with cultural institutions.
Since 1993, the Program has welcomed interns from over 40 different Aboriginal Nations across Canada. Graduates have gone on to become role models and advocates in museum and cultural sectors. Upon completing the Program, many graduates have used their training and experience to become community museum staff, directors, instructors and government employees, or to help them select a specific area of expertise in which to further their studies. Others have taken on leadership roles in organizations such as the Aboriginal Curatorial Collective, the Union of British Columbia Indian Chiefs and the Haudenosaunee Cultural Resources Protection Program.
The Program also works with a variety of affiliates and stakeholders such as First Nations agencies, national museums, the federal government, local colleges and universities, provincial museums, Library and Archives Canada, the Canadian Conservation Institute, the First Nations Confederacy of Cultural Education Centres, as well as some of the First Nations that have museums, libraries, cultural centres or cultural tourism ventures.
Overview
Description
The goal of the RBC Aboriginal Training Program in Museum Practices at the Museum is to offer First Nations, Métis, and Inuit participants professional and technical training. The Program operates from September to April of each year, with a two week break for the holiday season.
Objective
To offer practical experience for Aboriginal people who would like to broaden their knowledge and skills in various aspects of museum work.
Components
Candidates can undertake practicum assignments lasting four to five weeks, in the following divisions of the Canadian Museum of History and the Canadian War Museum:
Research
Collections
Exhibitions
Public Programs
Public Affairs and Publishing
Development
Museum Services
Eligibility
Candidates must hold a secondary school diploma. Those with less than Grade 12 education will be considered on the basis of demonstrable experience in cultural interpretation or related skills.
Financial Support
The Museum provides a small stipend, travel, training and facilities for the Program. Participants are encouraged to seek additional sources of financial support to cover living expenses.
If you wish to participate in this program, please submit the following documents:
A résumé with permanent and current addresses, telephone numbers, academic background and employment history.
A personal statement indicating how the the practicum or internship relates to your experience, academic goals, and/or professional development.
Two letters of reference attesting to your previous experience and career goals in a museum or cultural heritage field. The letter should be from an Aboriginal community or organization, or an individual who occupies a position of responsibility.
Application Deadline
Documents must be received by March 31, 2017.
Please forward them to:
RBC Aboriginal Training Program in Museum Practices
C/O Coordinator
Canadian Museum of History
100 Laurier Street
Gatineau, Quebec
K1A 0M8
Tel: 819-776-8270
Fax: 819-776-7110
Email: atpmp@historymuseum.ca
Some Past Projects of Interns
RBC Aboriginal Training Program in Museum Practices is
generously supported by