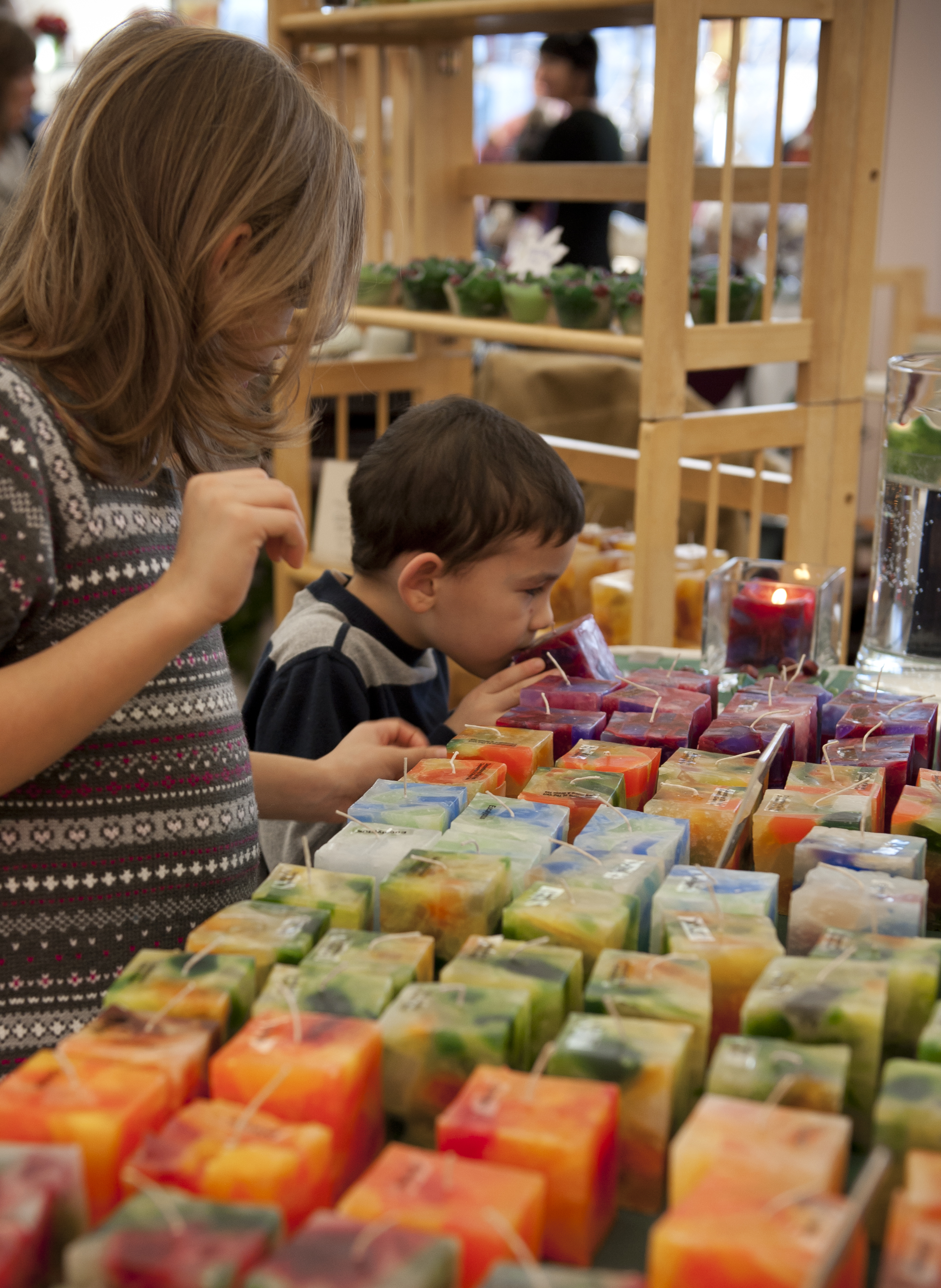 Welcome to the Museum's Christmas Market, a great place to make your holiday purchases in a relaxed and festive atmosphere. Some 50 local food producers and artisans await you, with stalls abounding in delicious edibles and unique handmade creations.
Enjoy performances by young musicians from the Conservatoire de musique de Gatineau, Dickens carollers in period costume, folksongs by La Ridaine, and clowning around by the Sisters of Christmas. Santa Claus has promised to visit on December 7 and 8 – so don't forget to bring your wish list.
The Museum's Christmas Market is a treat for the senses that you won't want to miss!
Market Schedule

Friday, December 6 and 13: Noon to 5 p.m.
Saturday, December 7 and 14: 10 a.m. to 5 p.m.
Sunday, December 8 and 15: 10 a.m. to 5 p.m.



Here are this year's producers and artisans :
Beauty Products
Ferme de Babouchka
Ferme Lavender Ridge
Herboristerie La Fée des Bois
Urban Forest Soap (new!) 

Clothes and Accessories
Arpents Verts Alpagas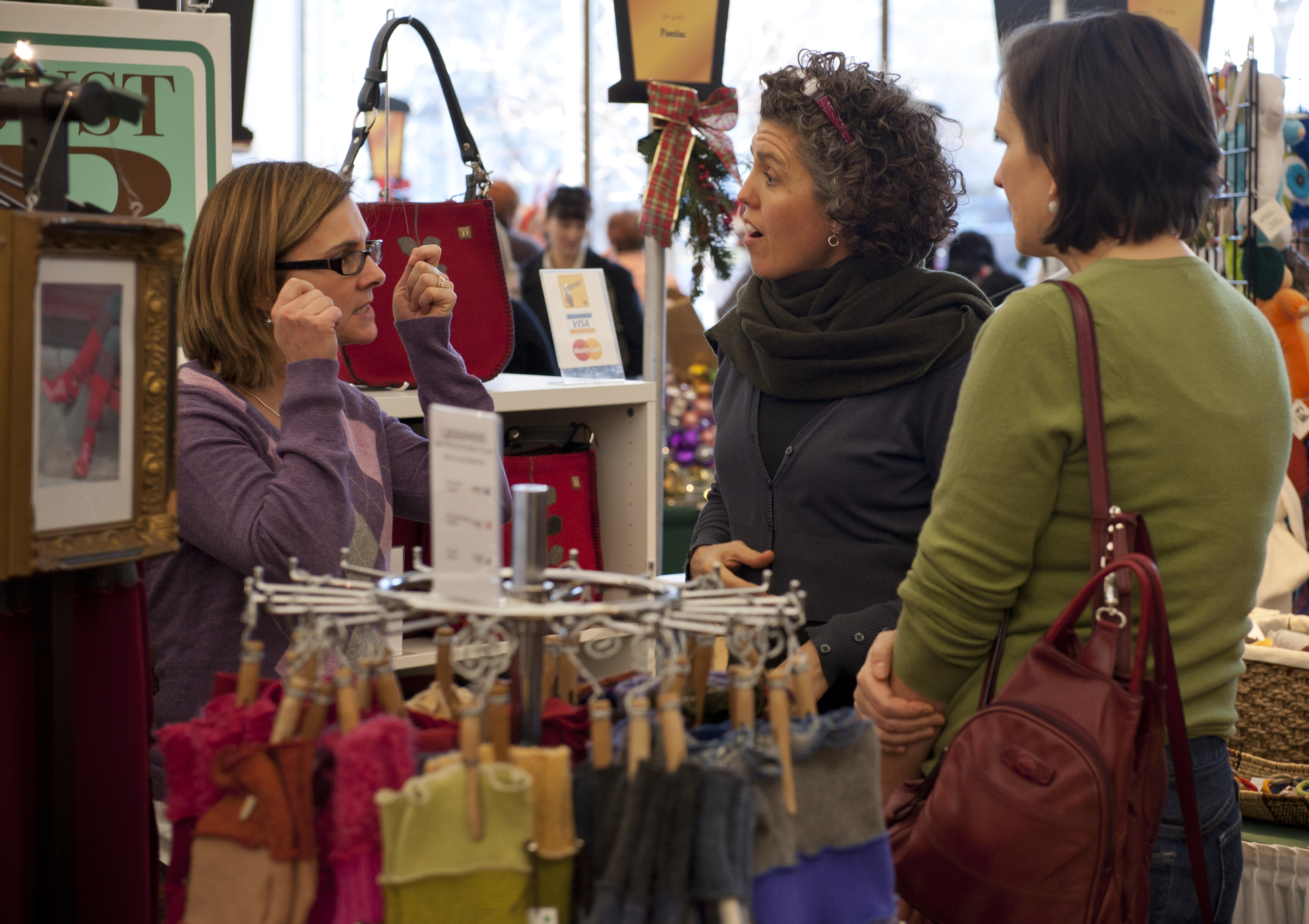 Boutique Le Local
Funky Vinyl Art (Dec. 6, 7 and 8 only)
Handweaving by Janet Whittam (new!)
La belette verte (new!) (Dec. 13, 14 and 15 only)
Les Créations ICI-BAS
Lococina
Magneties
sFELT (Dec. 6, 7 and 8 only)
Willow Lane Alpacas (new!) (new

Edibles
Boucherie de la Ferme (new!)
Cidrerie Coronation Hall Cider Mills
Domai ne Mont-Vézeau
Ferme Lavender Ridge
ferme fée et fougère
Fromagerie Montebello
Fumoir artisanal "Oscar" ((new!) Dec. 6, 7 and 8 only)
Herboristerie La Fée des Bois
La Ferme du Ruisseau Noir (new!)
Les Jardins au Parfum de Lavande (new!)
Les Paniers d'Élaine
Les Serres Bio-Fruits Production ( n (new!)
Maison de thé CHA YI
Miellerie Sempels Honey
Miss Chocolat
Miss Marmelades
The Small Bakery (new!) (Dec. 13, 14 and 15 only)
Glass Work
ART-VERRE (new!)
Atelier Verrelime
Créations Grande Ourse – Gravure sur verre ( ( 13 (new!) (Dec. 13, 14 and 15 only)

Rick Foss
LLuciole Glass (Dec. 6 66666666, 7 and 8 only)
Water Willow Design (new!) 

Household Items & Miscellaneous
Art By Choleena (new!)
ART-VERR E (new!)
Atelier Galerie Solart céramique (new!)
Atelier VerreLime
Au bois tourné
Book Artiste (new!) (Dec.6, 7 and 8 only)
Bougie Doozy Candle
Boutique Le Local
Créations Grande Ourse – Gravure sur verre (new!) (Dec. 13, 14 and 15 only)
Funky V inyl Art (Dec. 6, 7 and 8 only)
Joseph Henri (new!) (Dec. 6, 7 and 8 only)
La belett e verte (new!) (Dec. 13, 14 and 15 only)
Laura Sheppard Handmade
Les seaux GADI (new!)
Les 3ois soeurs
Les tissages de Lise (Dec. 13, 14 and 15 only)
LLuciole Glass (Dec. 6 66666666, 7 and 8 only)
Miellerie Sempels Honey
Pinowood.ca
Water Willow Design (new!)
Willow Lane Alpacas (new!) (new

Jewellery
Atelier VerreLime
Boutique Le Local
Créations Geneviève Paris
Kapitaine Krochet (Dec. 13, 14 and 15 only)
L'Atelier de Falballa
Linda Jones Jewelry (new!) (Dec. 13, 14 and 15 only)
Lococina
Rick Foss
Strut Jewelry (new!) (Dec. 6, 7 and 8 only)
Water Willow Design (new!) 
(

Pottery & Woodwork

Atelier Galerie Solart céramique (new!)
Au bois tourné
Jennifer Kelley Pottery (new!) (Dec. 13, 14 and 15 only)
Joseph Henri (new!) (Dec. 6, 7 and 8 only)

Laura Sheppard Handmade
Les seaux GADI (new!)


Maison de thé CHA YI
Pinowood.ca





Toys
Wines and Ciders
Cidrerie Coronation Hall Cider Mills
Domaine Mont-Vézeau
Vignoble de la Côte St-Charles (new!)
Vignoble Lavender Ridge
Le Vignoble du Clos Baillie

Photos: Ryan McCosham